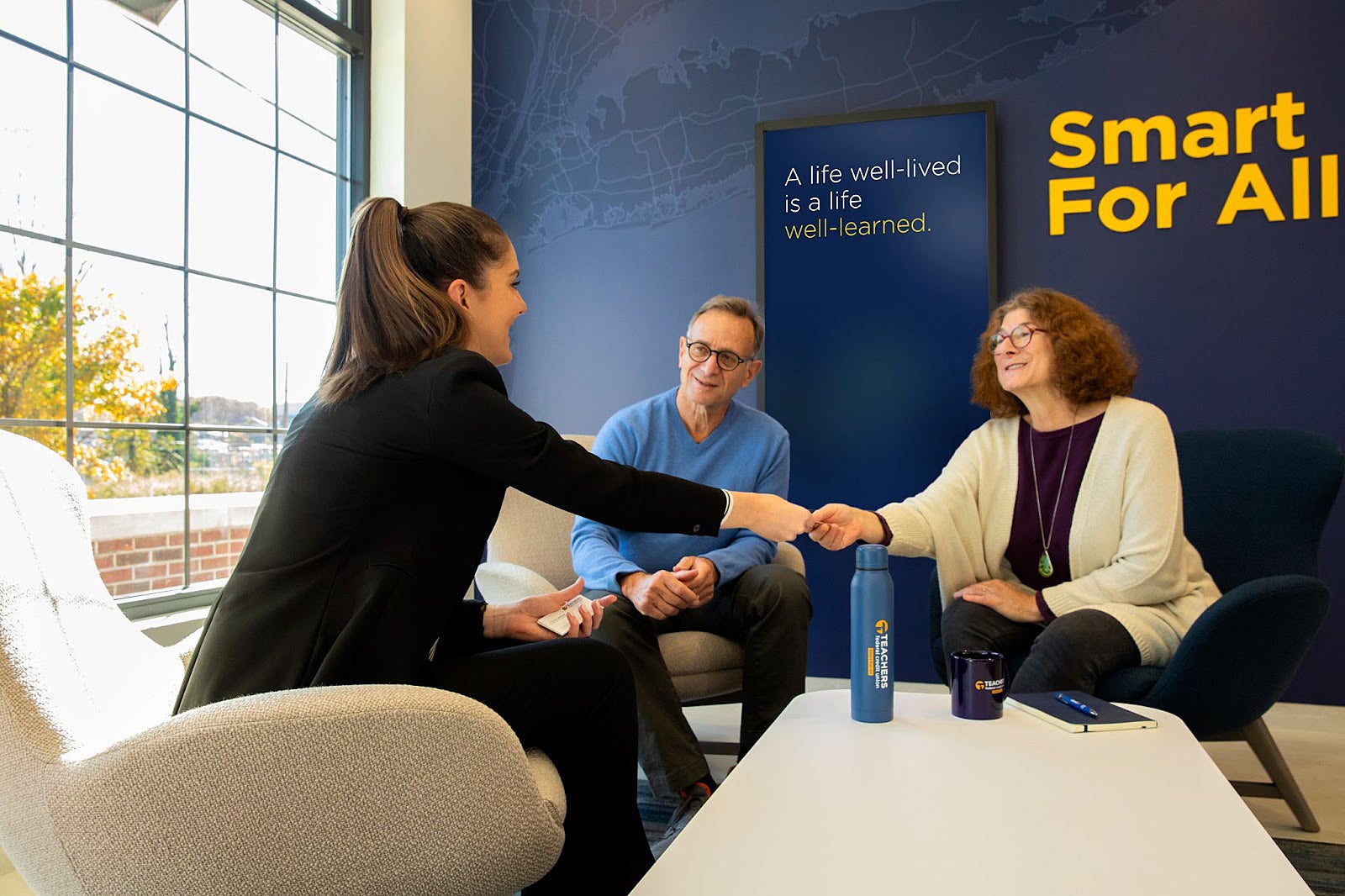 It's International Credit Union Day! Celebrated on the third Thursday of October— every year since 1948—this day marks a celebration of the credit union movement. This year's theme—"Building Financial Health for a Brighter Tomorrow"—highlights how credit unions, like Teachers, can help you achieve your best financial future.
And because credit unions are not-for-profit organizations owned by their members, International Credit Union Day is really about celebrating you, our member-owners! 
So...What Is a Credit Union?
A credit union performs the same functions as a bank, such as accepting deposits and providing loans. However, unlike banks, which may be publicly traded on the stock market and owned by shareholders, credit unions are member-owned—meaning they strive to act in the best interest of their members and their owners, which are one and the same!
As a member-owner of a credit union, you get personalized access to the accounts, tools, and products you need to help you manage your money, all at a lower cost. Credit unions also provide additional benefits to members that traditional banks do not. 
Benefits of a Credit Union
Credit unions have a vested interest in helping their members build a strong financial footing. From higher interest rates on savings accounts to a strong sense of community, credit unions have a lot to offer. Let's highlight a few of the benefits of joining a credit union. 
Higher Interest Rates on Savings and Checking Accounts
As not-for-profit organizations, credit unions give "profits" back to their member-owners in the form of higher interest rates on savings and checking accounts, as well as certificates of deposit. In fact, Teachers offers a high-yield Smart Checking account that earns a competitive 0.65% APY*, which is more than 9x higher than the national average.¹ 

Lower Cost Loans
Loans from credit unions tend to have lower rates than other lenders. As not-for-profit organizations, credit unions invest in the financial future of their members. They aim to know and support their members' financial health and credit quality, which means charging lower interest rates. Whether members need a home, auto, business, or personal loan, they can typically borrow from their credit union at a lower rate relative to other financial institutions. 
Low Account Fees
When you trust a credit union with your finances, you can benefit from low fees. With checking, savings, or any other type of account, credit unions require low to no monthly service, ATM, or other fees compared to competing financial institutions. At Teachers, we're proud to offer a checking account with no opening deposit, no minimum monthly balance, no monthly fee, and no per-check charges, giving our members the flexibility they need to live their best financial lives.
Strong Sense of Community
As a credit union, we believe in the philosophy of people helping people and are passionate about supporting the community. With one of our guiding principles focused on being a good community partner, we share our time, energy and resources to support causes that promote education, human services, economic development and research. 
Convenient Access
For many individuals, it's important to have easy access to your funds both online and in-person, and when you have a question or a problem, you want to speak with someone. When you bank with Teachers, we make it easy to be a member anywhere with our online and mobile banking services. We also offer 32 conveniently located branches near your work, school, or home, all with no-fee ATMs for members. We are also a part of a shared branch network with over 5,400 credit union service centers across the country and 55,000 ATMs worldwide. So whether you need cash, want to make a deposit, or have a request, you can find a convenient location near you.
Personalized Service
Credit unions are uniquely positioned to offer personal service to their members. Held responsible by member-owners for fulfilling the needs of members, credit unions provide financial education and counseling to help put you in the best financial position possible. At Teachers we put your financial future first with our Teachers Trust & Financial Services team; offering a wide range of financial management services
to help our members organize their financial journey. 
Many credit unions, including Teachers, are insured by the National Credit Union Administration through the National Credit Union Share Insurance Fund or NCUSIF. Backed by the U.S. government, the NCUSIF covers members' deposits up to $250,000 at federally insured credit unions. This means you can have peace of mind knowing that your money is protected in the unlikely event of institutional failure. 
Ownership
As credit unions are owned by and run for the benefit of their members, members are responsible for selecting a volunteer Board of Directors who offer their time and expertise to oversee the management of the credit union and ensure that finances are correctly kept. 
Final Thoughts
At the core of credit unions are its members. Credit unions work to support and invest in the community and give you peace of mind by keeping your money safe and offering low rates so you can keep more of it. The credit union membership model helps you build financial health, gives you a voice in the organization's management, and creates a true sense of community. Become a member and experience the smarter way to bank—join Teachers today!

 
¹Based on Comparison of Average Savings, Deposits and Loan Rates at Credit Unions and Banks, accurate as of March 26, 2021.
*APY = Annual Percentage Yield.