People Helping People - that's the credit union way!
300
Hours per year for Financial Education
$60k
In Scholarships Given Each Year
8
Paid volunteer hours, per year, per employee
As an organization, we are committed to serving the needs of our members, teammates and communities. With one of our guiding principles focused on being a good community partner, we share our time, energy and resources to support causes that promote education, human services, economic development and research. We've helped countless communities through our various partnerships and are passionate about inspiring future generations to do good.
Teachers Federal Credit Union is proud to work with many local organizations. You can request funding support for a 501( c) 3 charitable organization by completing our online application.
Before you submit the application, please email the Teachers Community Outreach Team at community@teachersfcu.org to discuss your proposal.
Please review the following guidelines before submitting a request for sponsorship:
Organization must be tax exempt under Section 501( c ) (3)
Organization must have an EIN
Applications should be submitted with a least 3 months lead time
Teachers Service Footprint
Education:
Supporting educational programs that assist communities with the resources needed to be innovative, creative, and succeed not only today, but in the future. Our areas of focus for education are financial education, STEM (Science, Technology, Engineering & Math), and literacy.
Human Services:
Supporting programs that assist communities with immediate human needs, such as providing children and families with food and shelter. Our areas of focus for Human Services are food and shelter.
Economic Development:
Supporting initiatives that work to improve the economic well-being of the communities we serve. The ultimate goal is to help create sustainable programs that assist with the development of a thriving community and assist with making local businesses strong. Our areas of focus for Economic Development are community development, community revitalization, and creating vibrant communities.
Research:
Keeping people healthy and supporting research to encourage and advance medical treatments and cures. Our areas of focus for Research are: credit unions for kids and health services.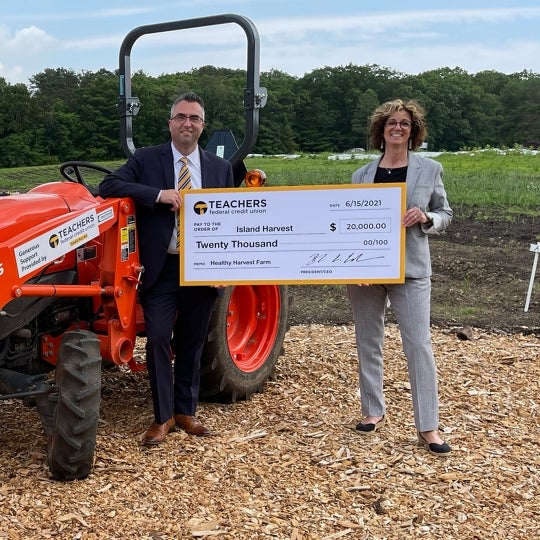 Community
Island Harvest Sponsor