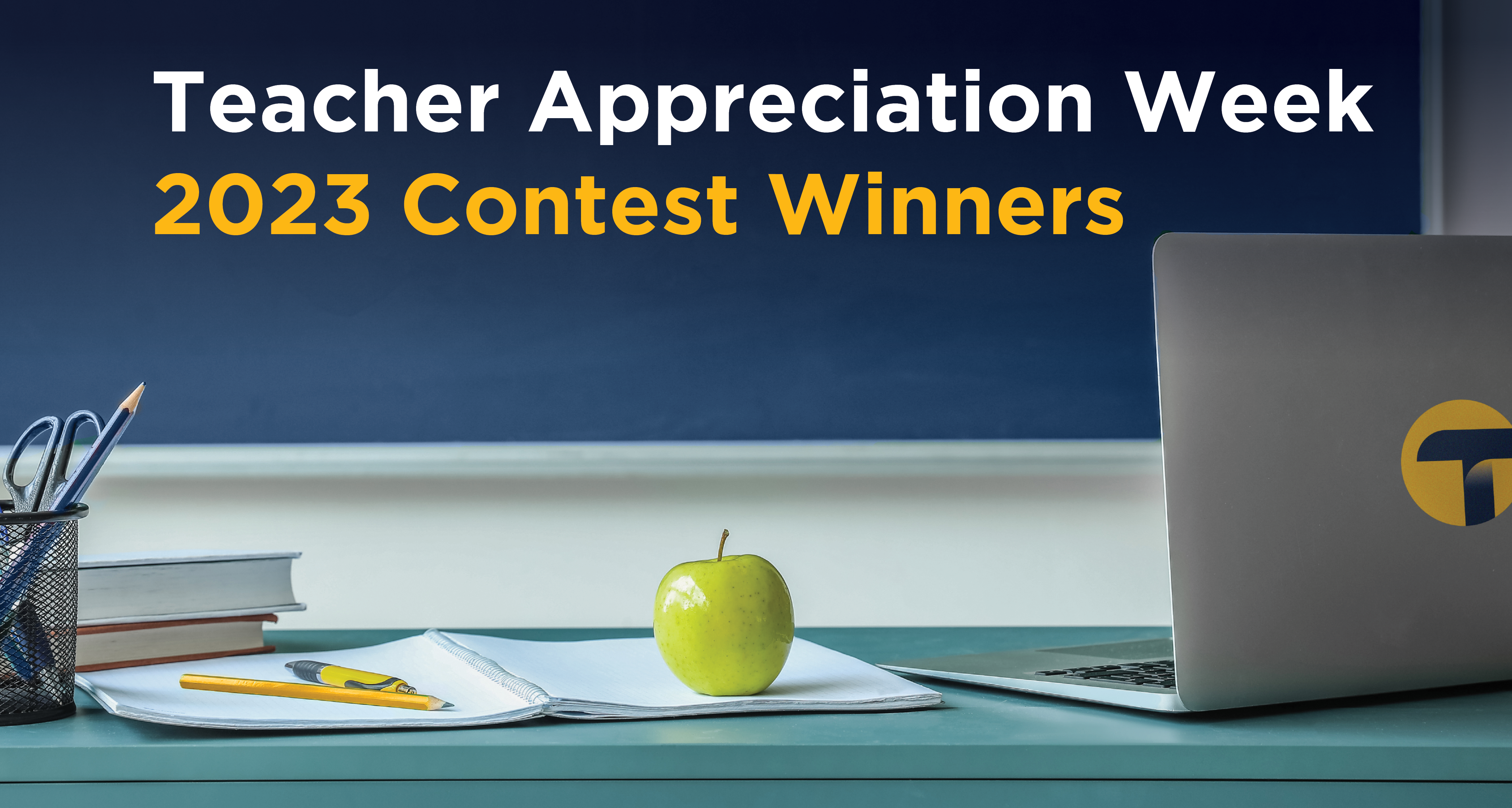 Nine Winning Teachers Receive Classroom Grants Totaling $15,000 
Teachers Federal Credit Union, one of the largest credit unions in the United States with $9.2 billion in assets and more than 420,000 members, is proud to announce the winners of its Third Annual Teacher Appreciation Week Contest. The contest, which culminates during nationally-recognized Teacher Appreciation Week, honors educators across the country who have made outstanding academic contributions to their communities.
This year's competition drew nominations from across 45 states, with 18 finalists selected by a group of panelists. Upon announcing the finalists, voting was opened to the public via teachersfcu.org to select three winners in grade categories Pre-K - Grade 5, Grades 6-8, and Grades 9-12. First-place winners will receive classroom grants in the amount of $2,500, second-place winners receive $1,500 classroom grants, and third-place winners receive $1,000 classroom grants.
"Teachers work tirelessly every day to inspire, encourage, and challenge their students to make a difference in the world," said Brad Calhoun, President and CEO of Teachers Federal Credit Union. "As a credit union that was founded by educators and has grown to serve members across the nation, we're acutely aware of the impact teachers have on our communities, and are proud to recognize their contributions through these classroom grants." 
Teachers Third Annual Teacher Appreciation Week Contest Winners 
 
$2,500 Classroom Grant Recipients: 
Osvaldo Juarez Fuentes, Bay Elementary – Patchogue, NY (Pre-K - Grade 5)
Osvaldo Juarez Fuentes is a music teacher in several elementary schools in his school district. His love for music and the arts shines through in all students he teaches. Mr. Juarez's teaching methods draw his students into his love of music.
 
Sarah DeVita, East Middle School – Brentwood, NY (Grades 6 - 8)
As an English and ENL teacher, Sarah DeVita shows students that their words hold the power to change the world. She developed a curriculum for the English department to utilize, mentored student teachers, and continues to advocate for students and their families.
 
Christopher Toomey, Mineola High School – Garden City Park, NY (Grades 9 - 12)
Christopher Toomey directs the award-winning Mineola High School Marching Band and 8th-grade band, teaches college-level and AP music theory classes, and leads a Wind Ensemble he established.
 
$1,500 Classroom Grant Recipients:
Samantha Rodriguez, Greenport Elementary School – Greenport, NY (Pre-K - Grade 5)
Samantha Rodriguez demonstrates the importance of giving students a feeling of belonging and love, to nurture their ability to learn and grow. She is committed to her students and always there to support parents who struggle to help their children.
 
Glen Kubik, East Northport Middle School – East Northport, NY (Grades 6 - 8)
Glenn Kubik has made a lasting impact on students, parents, and the community. Named a hero by Pete Alonso of the New York Mets for his work in the community, he is seen at nearly every school activity and believes that he is his students' teacher for life.
 
Meredith Long, John Adams High School – Ozone Park, NY (Grades 9 - 12)
Meredith Long has done extensive work with social-emotional programs and brought them to her school for a more empathetic learning experience that considers a student's entire well-being. Ms. Long has also helped coordinate donations of track shoes, gymnasium supplies, and more to schools within the NYC DOE.
$1,000 Classroom Grant Recipients:
Traci Wright, Dorothy C. York Innovation Academy – Apollo Beach, FL (Pre-K - Grade 5)
Traci Wright recognizes the struggles of her students and works to create a path for them to achieve success. Ms. Wright advocates for her students with a passion, coordinating meetings and creating plans for each of her students to succeed.
 
Quincy Johnson, Lumberton Junior High School – Lumberton, NC (Grades 6 - 8)
Quincy Johnson has been a teacher for 40 years in varying schools throughout Georgia and North Carolina. He believes that teaching is a lifetime commitment and that he is not only educating about academics but the skills of life. As a social studies and homeroom teacher, and basketball, volleyball, track and field, and softball coach, he is dedicated to developing well-rounded students.
 
Tonya Floyd, Middleton High School – Tampa, FL (Grades 9 - 12)
Tonya Floyd empowers diversity and works with girls that need direction and guidance, teaching them to see the good in everything. She is a STEM leader and mentor for high school students, she brings out the success in each student.
To learn more about this year's contest and winners, please visit Teachers at teachersfcu.org/teachercontest or the credit union's social platforms, including Facebook and Instagram. 
ABOUT TEACHERS FEDERAL CREDIT UNION:
Teachers Federal Credit Union (Teachers) is one of the country's largest credit unions, with more than $9.2 billion in assets and more than 440,000 members across all 50 states. Founded in New York in 1952, Teachers is a full-service, not-for-profit financial institution with an open charter offering membership to anyone in the U.S. through its 33 full-service branches and best-in-class digital solutions. Teachers is a key supporter of the communities it serves and is proud to offer a range of member-focused products with competitive rates and low fees. What started as a smart solution for teachers is now smart for all. For more information, visit www.teachersfcu.org.