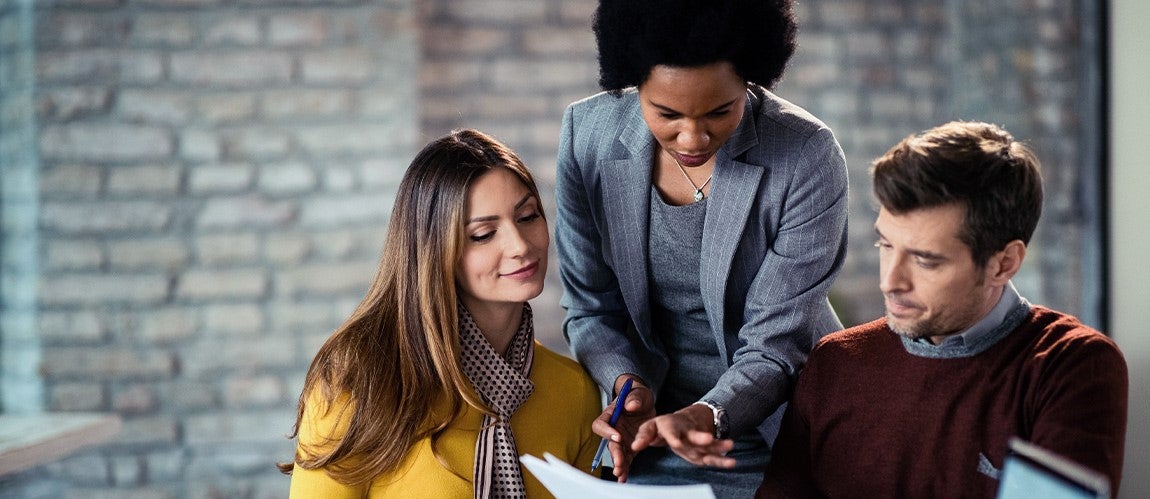 For many people, beginning the process of buying a home may seem daunting. Even if you are an experienced buyer, the nuances of the real estate market may deter you from making the next move. However, with the right information and preparation, you can quickly reap the benefits of both personal and market conditions. 
If you're considering purchasing a new home or refinancing your existing one, here are 10 questions to ask your mortgage lender that can help you understand and prepare for the loan process. Asking these questions will help ensure that you're gathering all the pertinent information necessary to make an educated financial decision. 
Which Mortgage Product Best Suits My Needs?
If you're looking to become a homeowner, there are several  mortgage options to discuss with your lender: 
Fixed rate 
Adjustable rate (ARM)
No money down
No closing costs
Jumbo
Conventional 
Each type of mortgage has specific benefits and requirements, so it's important to review each option with a mortgage lender to determine which is best for you. For example, conventional loans offer access to lower interest rates, but they require a higher credit score.  At Teachers, we offer conventional, jumbo, and adjustable rate mortgages,  as well as other mortgage products that allow individuals with lower credit scores to obtain financing with a low to 0% down payment. Researching each will help you determine which type of loan works best for your unique financial situation.
1. How Much of a Down Payment Will I Need?
Your down payment will depend on your qualifications and the type of mortgage you're applying for.  While a 20% down payment used to be the standard, many homebuyers are averaging 12%.1 There are also mortgage products that allow you to purchase a home with 0% to 3%  down. The amount you put down directly impacts your interest rate and your monthly payments. The more you put down, the better your position. 
2. How Much House Can I Afford? 
Your "purchasing power" refers to the price of a home you can afford. A mortgage team will assess your current financial situation to help determine this amount. You'll review your credit score and debt-to-income (DTI) ratio, which typically should be 43%, among other qualifications, to identify the monthly payments you can afford.2 You can also use a mortgage calculator to estimate your monthly payment. 
3. What Will My Interest Rate Be? 
The interest rate a lender offers varies according to the federal funds rate and other market conditions, as well as your qualifications as a borrower. The federal funds rate sets base rates, and more qualified borrowers can typically access similar interest rates. However, as your qualifications decline, your interest rate may go up. You'll also want to ask about the annual percentage rate (APR), which is the yearly interest rate paid on a loan.
4. Do You Charge for a Rate Lock?
When speaking with a lender, be sure to ask if they charge for a loan rate lock. A rate lock on a mortgage ensures that the interest rate won't change between the time you make an offer on a home and when you close. Typically, lenders offer a rate lock for 30 to 60 days and then offer an extended lock period for a fee. Teachers offers a rate lock of 60 days, with the option to extend the lock period up to 28 days for 1/8th of the loan amount for every seven calendar days requested. 
When considering a rate lock, you might also want to check one other caveat—if rates fall during the process, will you be able to opt for a lower rate? If so, you may want to include this in your agreement. 
5. Will I Have to Pay for Mortgage Insurance?
Whether or not you have to pay for mortgage insurance depends on the type of loan that you qualify for. If you're putting less than 20% down on a home, lenders may require you to pay for mortgage insurance. Private mortgage insurance (PMI) protects the lender in case you default on your loan. The rate of insurance varies, but mortgage insurance will increase monthly payments. 
6. What Term Should I Choose for My Mortgage?
A "loan term" is the duration of your loan until you've paid it off. Today, most mortgages are based on a 30-year term, meaning your repayment schedule is based on 30 years. Monthly payments include both the principal amount (the initial amount borrowed) along with any interest fees. 
Although a 30-year term is most common, some homeowners opt for shorter terms, such as 10-, 15-, or 20-year, if they can afford the increased monthly payments. A shorter-term means that you'll pay less in interest over the total term, but more in principal each month, resulting in a higher monthly payment than a 30-year mortgage.  
7. Do I Qualify for Any Assistance Programs?
Some prospective homeowners may qualify for assistance programs. For example, some programs can help you acquire a home under an FHA or conventional loan with 0% down. These are known as "down payment assistance programs." 
The programs available vary depending on where you live, so conducting due diligence upfront before speaking with a lender is always important. 
If you don't qualify for assistance-based programs, some financial institutions offer options designed to help you qualify for a mortgage. For example, Teachers Smart Mortgage program provides credit approvals for scores as low as 660, down payments as low as $0, and more flexible loan-to-value (LTV) requirements.
8. What Fees Are Associated With Applying for a Mortgage?
Obtaining a mortgage or refinancing your home involves fees. To be in the know, first, ask about the lender's fees. Is there an application fee, a credit report fee, or any upfront expenses? Second, review your closing costs—all homeowners can expect to pay these fees. Closing costs cover origination fees, appraisal fees, attorney fees, etc.
You can ask our team at Teachers to outline all associated expenses and provide documentation so that you know what to expect when closing.
9. What's Your Process, and How Do I Apply for a Mortgage?
If you're confident about the options you've discussed with our mortgage lender and are ready to pursue a new home mortgage or refinance, you're ready to start your application. During the application process, you will supply documentation relating to your income, debts and assets. 
Learn More with Teachers
If you're considering purchasing a new home or seeking a refinancing option, ask Teachers how to get started. We can review the process with you, or you can apply for a mortgage online. And as always, you can still visit us in person for a mortgage application. Remember that a conversation with a Teachers mortgage lender is free of charge. If you're still in the early stage and have questions, the best option to pursue is simply starting the conversation. We may be able to offer solutions that you don't yet know existed!
2021 Home Buyers and Sellers Generational Trends Report National Association of REALTORS® Research Group, December 2021.

Debt-to-income (DTI) ratio is calculated by dividing gross income by the total of all debt payments including the mortgage payment, homeowners insurance, property taxes, and applicable HOA fees.