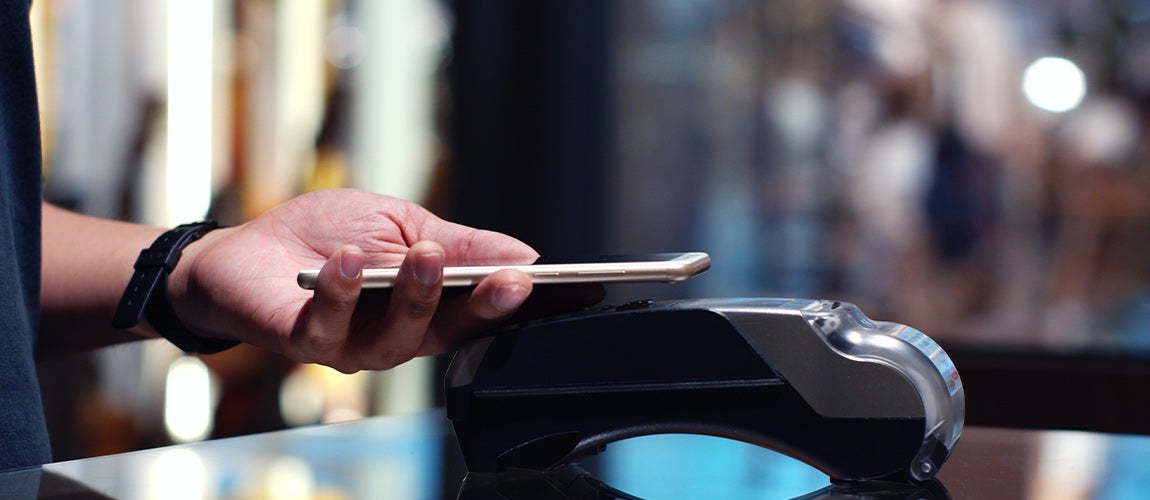 Are you curious about digital wallets and how they work? Perhaps you've been considering using one, but need a little more insight first. If so, you're not alone.
Since technology and cybersecurity are constantly improving, more and more people are learning about digital wallets and how simple it can be to pay from a mobile device. But let's face it, it's normal to be a little skeptical when trying something new with your finances. That's why we've laid out a variety of benefits and features that digital wallets offer, and ultimately, how they can make life a whole lot easier.
What Is a Digital Wallet?
A digital wallet is an app that saves your data and allows you to make a variety of cashless transactions, whether you're checking out at the grocery store, making an electronic payment, or completing a peer-to-peer funds transfer. From Apple Pay, to Samsung Pay, to Google Pay, there are many different types of digital wallets. Chances are that these applications are already built-in to or available on your smartphone.
Digital wallets can practically replace your physical wallet by storing everything inside, such as your driver's license, credit and debit cards, merchant rewards cards, event and plane tickets, and for New York residents, even your COVID-19 Vaccine card. There are also encrypted digital wallets where you can store more sensitive information, like your unique PIN numbers.
To begin using your digital wallet, first you'll need to install the digital wallet software on your device. These mobile apps are primarily downloaded to smartphones, but they can also be used on PCs. 
After installation, the next step is adding payment preferences and importing everything you need on the app of your choice, including credit and debit cards, ID cards, driver's licenses, etc. Once your financial institution confirms your card information, you can use your smartphone to make payments at any place that accepts cashless transactions. 
Benefits of a Digital Wallet
Saves Time
When you use a digital wallet, you're able to complete an in-store transaction with a quick and simple wave of your smartphone. This eliminates the need to reach for your wallet or purse when checking out. 
If you've ever been in line behind a person fumbling with their purse or wallet at the checkout counter, or if you find yourself having trouble locating your debit or credit card from time to time, you can imagine how much quicker and simpler using a digital wallet can be!
Lightens the Load
If you're like the majority of people today, your phone is always with you. By having the luxury of storing your payment cards in a digital wallet, you can shop at your favorite stores without having to carry your physical wallet with you, which means fewer items to remember as you're on your way out the door.
In addition to debit and credit cards, some mobile wallets can store loyalty cards and gift cards as well. This allows you to keep them with you at all times without having to remember them when you go into the store.
Special Offers and Bonuses
Some digital wallet platforms offer users additional bonuses and valuable gifts to boost their user experience. This means that you may also get incentivizing benefits in addition to the opportunity to pay for your purchases quickly and easily.
Reduces the Chances of Fraud and Theft
Unlike your physical wallet, your smartphone has security controls available (if you activate them), which only allows you to access your cards. When someone finds your wallet, your cards are there, leaving your funds much more vulnerable. With a digital wallet, if someone finds your phone, they won't have access to your actual credit card or other personal information.
When you make an in-store payment using a digital wallet, it's not like swiping a credit card—the store doesn't take your card number. Instead, your digital wallet exchanges your card number for a token so your account information can't actually be saved by any establishments.
Since all data stored in the app is recorded and never sent to third-party organizations, the online marketplace where you shop won't know your payment information.
Additionally, digital wallets are increasingly protected by security systems such as face identification, fingerprints, and passwords to further ensure the safety of your information.
Easily Integrates With Teachers Accounts
If you wish to benefit from the convenience and security of a digital wallet, you can easily add your Teachers credit or debit card to your digital wallet from your app's dashboard.
Types of Digital Wallets
There are two main types of digital wallets–both of which can be a handy tool when managing your day to day finances. 
Smartphone-specific: These applications are developed for devices of a specific brand: Apple Pay (iPhones), Google Pay (Android devices), and Samsung Pay (for Samsung devices). They allow credit and debit cards to be connected to pay online or in physical stores by connecting the smartphone or even the smartwatch to the payment terminal.
Others: There are also stand-alone applications designed for payments rather than improving companies' services with different specifications. Perhaps the most prevalent is PayPal, which is reliable, secure, and widely used by consumers and merchants. Also in this category are apps like PayPal's Venmo, Zelle, and Cash App.
Conclusion
While it may take a little getting used to, there are many benefits to using a digital wallet. From streamlining how you manage your money, to protecting your personal information in potentially vulnerable situations, digital wallets can offer convenience and security to users on a daily basis. 
There's no question that, over the years, the popularity and use of digital wallets has continued to rise. It's likely that the future of commerce resides in the use of digital wallets and–now given the right tools–you can better access if using one is the right path for you.