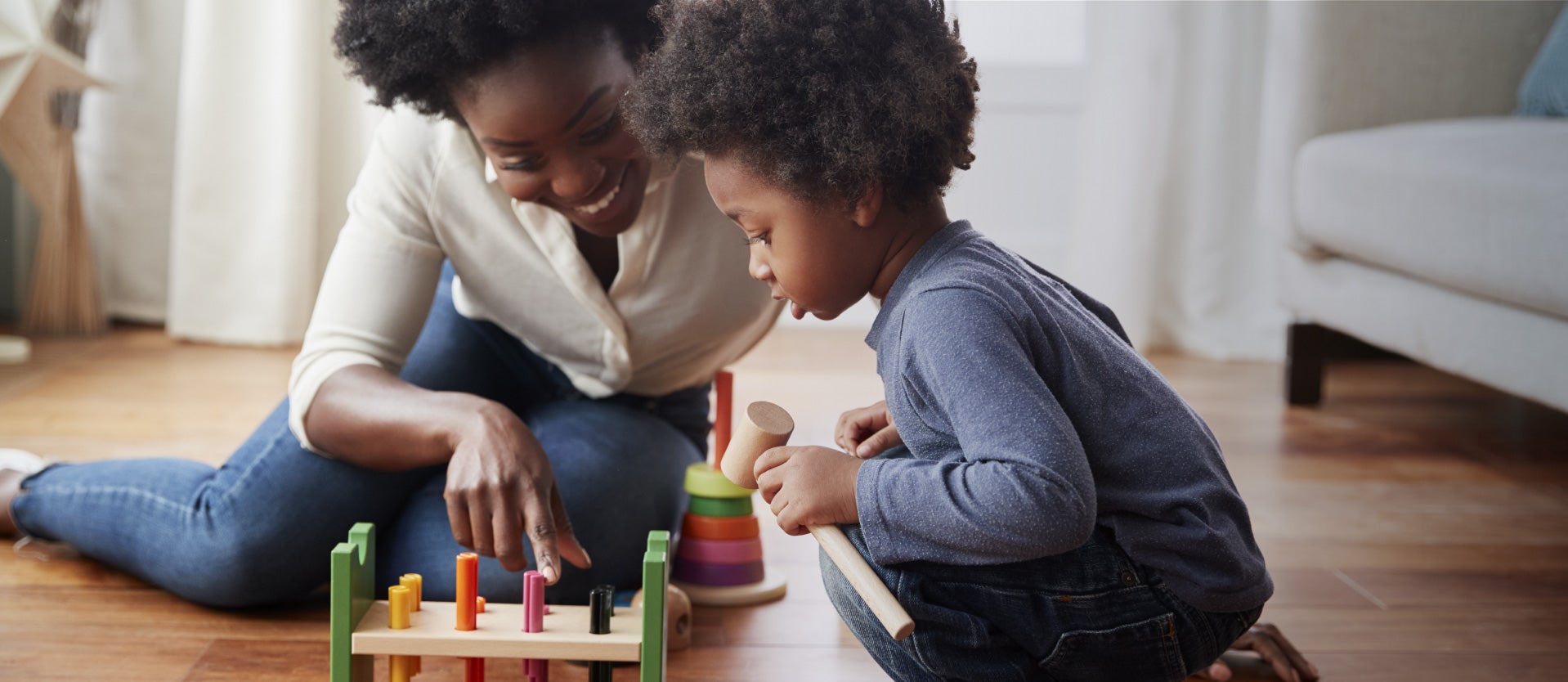 Having children is one of the great joys in life; from watching them take their first steps to going off to college, and all the special moments in between. But, it's also a big commitment and it's important to prepare for the costs that come with starting a family. These costs often start with typical living expenses, such as food and baby clothing, and as your child grows, extracurriculars like sports or recreational activities.
As your child reaches an age where they can understand the concept of items costing money, you may share with them how budgeting plays a role in making decisions. Spending money on an expensive hobby or toy has its tradeoffs, and learning about money can help kids grasp how to make these decisions for themselves. At a young age, children can be taught the value of money, how it works, and begin to build healthy financial habits. 
By using practical tools like savings accounts, you can teach your children the basics of finance. Opening a savings account for your kids is not only an easy way to help kickstart their financial future, but it can also ease your mind when it comes to handling costs such as college and activities as they get older.
What Age Should I Open a Savings Account for My Kids?
Introducing children early to saving can have a lasting impact. The best way to learn is by doing, and opening up a child savings account might just be the first step toward a child's financial independence!
A Youth Savings Account at Teachers Federal Credit Union is a special account designed for children and can be opened at birth, to be used up until they are 21 years old. The account can be opened with just $1.00 and earn an industry-leading 3.0% APY* on the first $1,000. Then, once your child reaches 21 years old, the account automatically switches to a basic Teachers savings account so they can continue on the path to financial success. 
Benefits of a Youth Savings Account
Children can begin learning the basics of money at a young age. According to a University of Cambridge study, children between the ages of three and four years old can recognize that money is used to buy things. Therefore, teaching your child about money early can help them develop strong financial habits, like how to manage money wisely as they get older.
Banking Basics
Having a savings account teaches children the concepts of depositing or withdrawing money and reviewing statements. You can also discuss other tools like debit cards and ATMs. Knowing how accounts work can prevent overdrafts because they'll have a basic understanding that they need to have enough funds in the account in order to withdraw cash or make a payment. It also gives you, as a parent, the opportunity to discuss the benefits of becoming a credit union member, and why banking with Teachers is the right choice.
Tracking and Saving Money
By opening up a Youth Savings Account, you can teach your child about keeping track of their money carefully. Instead of dumping change out of a piggy bank and counting it every time they access it, kids can have a clear record of their balances and how they reached them. Whether they get an allowance, earn money themselves, or receive gifts, they'll have a central place to store the funds. Seeing the deposits and withdrawals makes saving and spending a bit easier to follow, and watching their bank balance might motivate them to continue saving, especially as they get older and are hoping to purchase something big, like their first car.
Limiting Spending
A savings account allows children to store money until they need to use it, instead of impulsively buying goods whenever they have money to spend. When they become a teen or young adult, withdrawing money from a savings account takes a little more effort, which can help limit spending.
Security
When you open a Youth Savings Account, you'll have the peace of mind that your child's money is held at a financial institution, and won't risk losing or misplacing it at home. Savings accounts at Teachers are insured from loss by NCUA deposit insurance for up to $250,000, so setting up a savings account provides a safe way to store their money for the future.
Interest Rates
Teach your child about interest and how they are paid for saving money with a financial institution. The power of compounding means their interest can also earn interest, increasing their overall savings.
For example, with a Teachers Youth Savings Account, your child will earn $30.00 in interest on a $1,000 deposit in the first year. In the second year, they'd receive 3% interest on $1,030, which is $30.90 in interest. The amount of interest may seem like it's growing slowly, but over a lifetime, the amount earned on interest can actually become substantial. With more time on their side, kids can enjoy the benefits of compound interest if they have an account from childhood.
When to Open a Youth Savings Account
The earlier you open a Youth Savings Account for your child, the earlier they can start to see their money grow and learn about the importance of saving.
Teaching your children to plan ahead and set savings goals creates money management skills that carry into their adult years. Whether it's saving to buy a toy, pay for activities, or fund a college education, healthy financial habits pave the way for your child to strengthen their financial future.
*APY: Annual Percentage Yield. Rates are subject to change at any time. Please click here for more information on our most current rates.