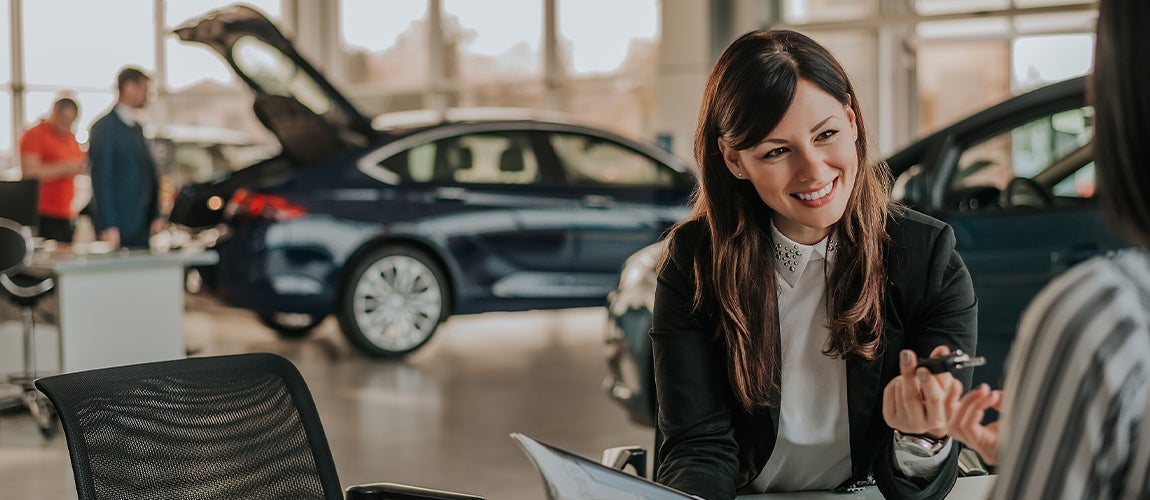 Next to a home, buying a car is one of the most significant purchases most people make during their lifetime. However, choosing the right vehicle for you is just one part of buying a car. Knowing how much you can afford, what type of car you want, and finding a great deal on financing are all crucial parts of acquiring a new set of wheels. 
How to Buy a Car
Before you get too excited about driving a new car off the lot, consider your budget carefully. Figure out how much you pay for your current vehicle, including maintenance and insurance. Can you afford to pay more? If so, decide exactly how much you're willing to pay each month, and remember that a lender requires you to place full coverage insurance on your new car. Contact your insurance company and ask them to estimate your insurance costs for a few new car models so you have an idea of how your insurance costs may change when you upgrade your vehicle. 
Though the best amount to spend on a car depends on your own personal financial situation, many experts suggest spending a lower percentage (such as 10%) of your monthly income on car payments, including fuel, insurance, interest, etc. This can help keep you from taking on more than you can handle financially.
If your budget can't handle the strain of paying more for a new car, consider purchasing a pre-owned vehicle instead to save money. Whatever you choose to do, it's important to have this figured out before you go to the dealership. 
Choosing a New vs. Used Car
Used cars are often less expensive than new cars, but it's essential to work through the pros and cons of new vs. used early on in your decision-making process so you can plan accordingly. Let's take a look at some things to consider:
Pros to Buying a New Car
Expensive and unexpected repairs often covered by manufacturer's warranty

Could get low or no-interest financing, depending on manufacturer promotions and your credit score
Cons to Buying a New Car
Higher cost

Must drive the car for a few years before you owe less than the car is worth
Pros to Buying a Used Car
Lower cost; even for like-new cars

Certified used vehicles may be in like-new condition
Cons to Buying a Used Car
Higher maintenance costs if the car isn't covered by a manufacturer's warranty

No financial incentives from lenders or manufacturer for a used car loan
How Does Car Financing Work?
Once you've considered the pros and cons of buying new vs. used and have determined the best option for you, the next steps involve figuring out how you'll pay for the car. It's easier to shop for a car if you know how much money you can spend, so if you plan on paying for your car in full, make sure you have an idea of the highest price you can afford before walking into the dealership. Or, if you're planning on taking out a car loan, you might consider pre-qualifying for an auto loan before you start test-driving vehicles. Pre-qualification gives you an idea of what a lender is likely to offer in terms of an amount within a given interest rate range, but it isn't a guarantee of funding. 
Once you're pre-qualified, you can move forward with pre-approval. This process requires you to authorize a hard pull of your credit. Something to keep in mind, every time a lender pulls a hard credit check it can stay on your report for up to two years, but most likely won't create a negative effect on your credit score for more than a year.
How Your Credit Affects Your Car Loan
Borrowers with higher credit scores typically have a better chance of qualifying for loans with better terms. While auto lenders consider many factors when evaluating applications, your credit score determines how much interest a lender charges and whether you'll incur other costs, like origination fees. 
Before you start shopping for financing, check your credit reports. You're entitled to a free copy of each of your credit reports from Equifax, TransUnion, and Experian according to the Fair Credit Reporting Act (FCRA). You can access your free credit reports by visiting www.AnnualCreditReport.com. 
How to Evaluate Your Auto Loan Options
After getting pre-qualified for a loan, it's important to consider a few things. Look through the loan disclosure to find the APR, loan term, down payment requirement, and taxes and fees. 
Start by looking at the annual percentage rate (APR) when evaluating the loan. This number represents the yearly cost of the loan, including fees. 
Then, consider the loan term. Some may choose a shorter loan term because, though it increases the amount of interest an individual will pay, stretching the loan term can lower their monthly payments. The value of a car goes down each year, so the longer one has a loan, the more likely they are to be stuck with a car that requires repairs while they're still making monthly payments. 
On the other hand, some may opt for a longer loan term. For those who do this, they might consider placing a down payment on the loan to lower their monthly payments. They may even get a lower interest rate if they make a down payment since owing less on a car can decrease a lender's risk that they'll lose money if the borrower defaults. 
It's important to remember that you don't have to finance your vehicle through the dealership. At Teachers, we offer auto loans with repayment terms of up to 96 months for new cars and up to 84 months for used cars. Not only that, but we have both GAP insurance and extended warranties available for purchase when choosing your loan.
If you have any questions about pre-qualifying for an auto loan, reach out to us at Teachers––one of our professionals would be happy to help!
1 DeNicola, Louis. "Prequalified vs. Preapproved: What's the Difference?" Experian. (Accessed June 8, 2021). https://www.experian.com/blogs/ask-experian/pre-approved-vs-pre-qualified-whats-the-difference/#:~:text=Prequalification%20tends%20to%20refer%20to,offer%20based%20on%20a%20preapproval.