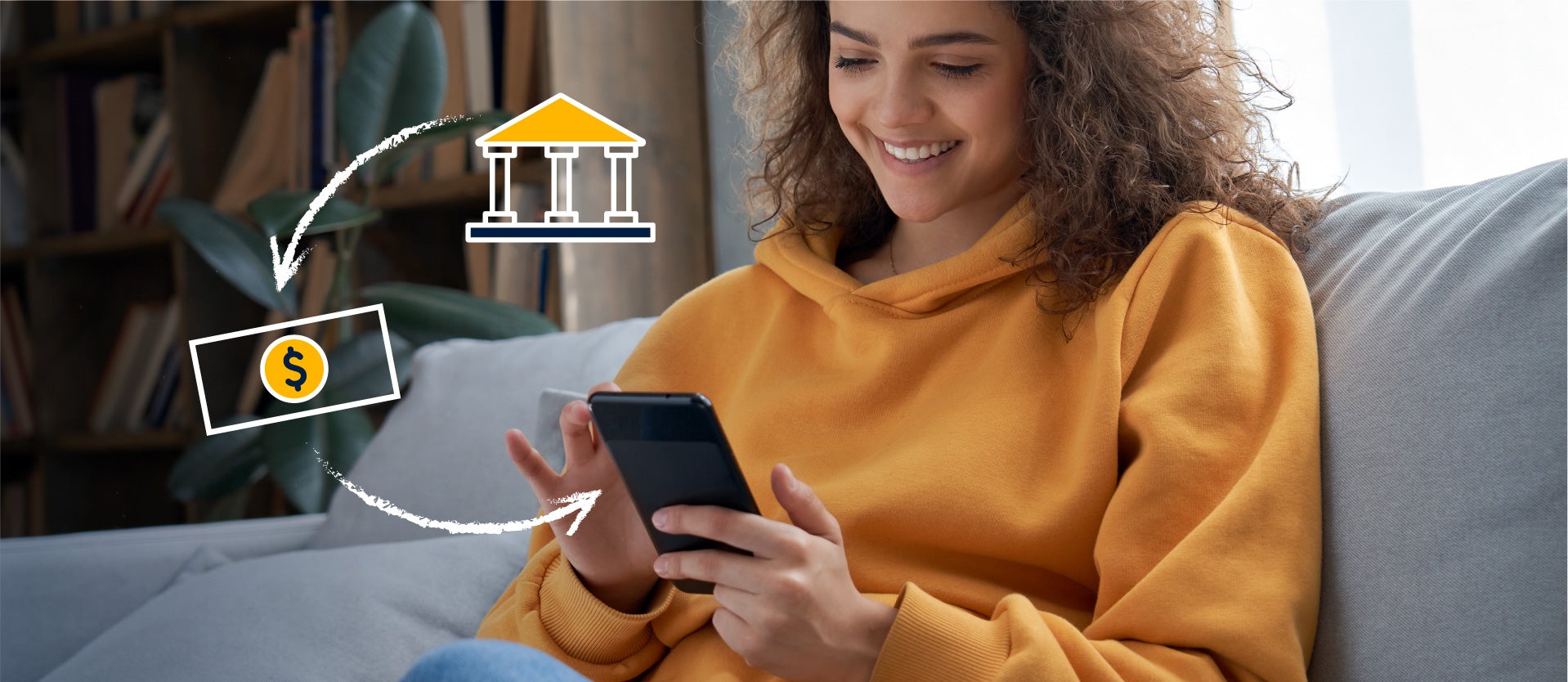 There's a smarter way to get paid by your employer: it's called direct deposit. Direct deposit is a safe, reliable, and inexpensive way to ensure your paycheck gets deposited into your account as quickly as possible. It's a popular and contactless method for employers to pay their staff, and it has a multitude of benefits for employees, too.
What Is Direct Deposit?
Direct deposit is the electronic transfer of funds from one account to another. This takes place through the automated clearing house, also known as ACH, which is a network that allows for the electronic transfer of money. When you deposit a paper check, it must be signed and physically sent to your financial institution in order for you to receive your funds. Once the check is deposited, you typically need to wait one to five business days for it to clear, depending on the size of the check and which financial institution it was from. Direct deposit, however, is an automated process, allowing you to access money faster with minimal effort on your part. Once money is sent through a direct deposit, it is immediately available for you to use.
How Do You Set-up Direct Deposit?
Setting up direct deposit requires you to share your account details and authorization with the party who will be sending payments. For instance, if you would like to set up direct deposit with your employer to receive your paychecks, you will need to provide some specific information, including your financial institution's name, details including account number and routing details (Teachers routing number is 221475786), and a signed authorization verifying the information is accurate and that they have permission to electronically deposit funds into that account.
You can find the account and routing numbers by accessing your online account or in your physical checkbook along the bottom of the check. If you decide to share the account details by providing a check or copy of a check, be sure to write "void" across the check before submitting it.
What Are the Benefits of Direct Deposit?
Getting your money faster isn't the only reason direct deposit is a smart choice. There are many reasons, including convenience, enhanced security and more.
Timely Access to Funds
Direct deposit can give you access to your funds more quickly than other forms of payment. Whereas before, you may have had to wait for your paycheck to clear in order to access your money, direct deposit makes it so you can use your funds immediately upon payment. This is a more efficient process, saving you significant time.
Convenience
If you are traveling or unable to make it to your workplace, you don't have to wait to pick up your paycheck or receive it in the mail, as the funds will automatically make it into your account on the designated payday. Direct deposit can help you avoid the inconvenience of having to go to your financial institution or an ATM to deposit a physical check. If you are electronically depositing your money into your account, you can save time by avoiding having to sign or upload the check as well.
Better Money Management
If you know you will be paid on a specific day, you can better manage your money by scheduling bill payments on or after your payday. This can not only get you in the habit of paying your bills on time, but it also helps you avoid hefty overdraft fees if you've sent out a bill payment, but your paycheck has yet to be deposited or credited into your account. Timely payment of bills will also support your credit score and overall credit history.
Effective Record-Keeping
Direct deposit payments generate an automatic record and electronic trail so you can keep records of when funds are received. By going paperless with your accounts, you will have fewer physical records to keep track of and will always have a list of your payments and deposits in one convenient place. This payment trail will also help you resolve any issues that may arise. Paper checks, on the other hand, may be more difficult to trace if they are lost in the mail or before being deposited into your account.
Enhanced Security
Direct deposit helps you avoid the risk of losing your paycheck and protects your money from the possibility of someone else stealing it. The bank alert feature takes this security one step further. Once you're enrolled with Teachers Online Banking, you can manage alerts by turning on the Payroll/ACH Credit alerts. This will send you an alert when a deposit has been made into your account. This can provide peace of mind that your money will be safe and that you can have access to those funds when you expect them.
Final Thoughts
Once you go direct deposit, you'll never want to go back. It's a safe and reliable way to ensure you get your paycheck deposited quickly and efficiently while also providing a record of payment so that you can be sure your funds are received in time.