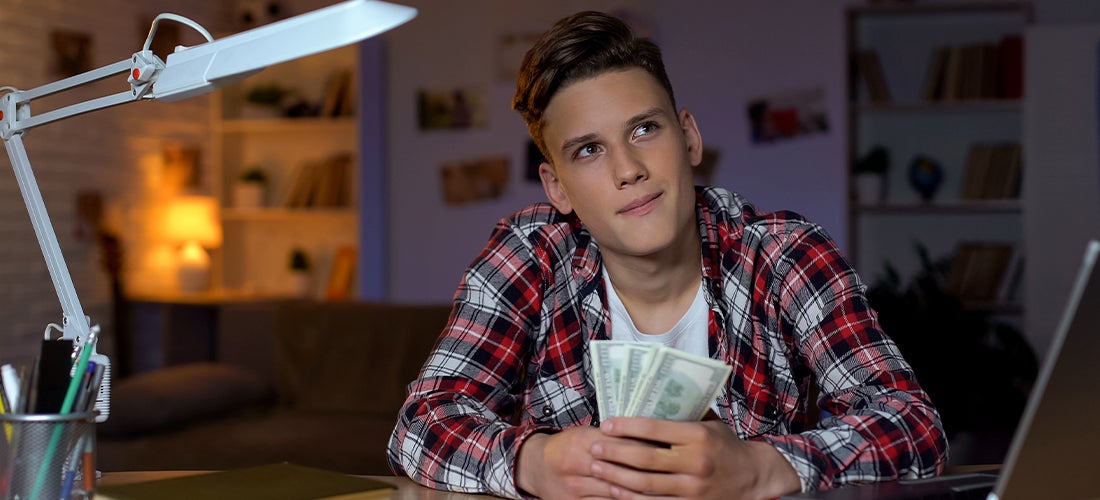 It's never too early to start understanding the importance of money. Whether you are a parent, relative, or mentor with a teen in your life, it's helpful to know how to get that conversation started. From saving opportunities to setting the right example, here are some helpful money tips for teens that will help them build healthy habits that will set them on the path to financial success. 
Start Early and Often
Healthy financial habits start early, so one of the most important things about the "money talk" is starting the conversation early and making sure to revisit it often. We like to think of it like trying a new sport or hobby. At first, your teen might not be all that interested, but after continued exposure and engagement, they may be more likely to develop a passion or interest. Though your teen may initially seem disengaged when discussing money, keep at it. Continued conversations about finances will pique their interest and help them pick up tips over time.
Remember, these conversations don't need to be formal, scripted, or sit-down. You can talk about money when you're grocery or clothes shopping. As you meander through the store, have your teen loosely keep track of the total bill. Once you get to the register, make an estimate about the total cost, then consider letting your teen pay the cashier. This will help to empower them — and it's also a good step toward learning about budgeting.
Set Up a Checking and Savings Account
You can also get your teen set up with a checking and savings account. Make sure to take them with you when you set it up, as this is a good chance for a conversation about the difference between the accounts and the purpose of each. At Teachers, we offer a Youth Savings Account, which is an account for those up to age 21. It requires only a $1 balance to open the account, and with a highly competitive rate of 3.00% APY* on the first $1,000 deposited, it gives your teen a head start to financial success.
Tailor the Conversation to their Interests and Hobbies
Each teen is unique, so try to approach the money conversation in a way that will resonate with them. If you work the conversation around something that interests them — like video games, sports, or fashion — you'll have better luck keeping their attention. For example, you can discuss how much that video game costs, how some people choose to rent rather than buy it, and what the cost of a recurring monthly gaming subscription might look like. Tailoring your conversations around money with something that interests your teen will keep them engaged as they build their understanding of money management.
Provide Learning Opportunities in a Safe Environment
As with all things in life, lessons learned are part of the process. For your teen to become financially savvy, they'll likely have to go through some learning opportunities along the way. Part of your job as a mentor is to help provide them with some of these opportunities, so they can learn about money in a safe environment. For some, this might be a weekly allowance that you give to your teen, where you take a step back to see how they use the money. Remember, don't be surprised if they're not perfect managers of their money from day one. Instead, see this as your opportunity to have a discussion with them about how they used their allowance, how that made them feel, and what they might do differently (if anything) in the future. Most people will want to jump straight into setting "rules" for their teen's allowance, but consider holding back, at least in the beginning, to give them some room to explore their newfound relationship with money management. Try to have the goal of simply offering suggestions and modeling positive financial behaviors for your teen while allowing them the space to explore and grow.
Set-up Earning and Saving Opportunities
You can also give your teen the chance to earn some additional money by providing them with specific jobs in exchange for an additional boost above and beyond their allowance. With independent contract jobs becoming more commonplace in the modern economy, this is a great opportunity to teach your teen how to scale up their income as needed. Consider offering more money for these specific jobs where your teen has an opportunity to grow their skillset:
Mowing the lawn

Babysitting

Doing the laundry for the household

Hand-washing the car 

Organizing a garage or storage room

Cleaning out the fridge

Grocery shopping

Carpooling duties
In addition to this work, there may be an opportunity to teach the value of saving by creating your own "Family 401(k)." The concept behind the Family 401(k) is that you offer your teen a savings match and investment growth for any contributions that they make. This can be as simple as a spreadsheet showing them when they make a deposit, how much you match, and how much their account is growing over time (based on an interest rate that you agree to pay). This can give your teen valuable first-hand knowledge of the benefits of saving, specifically in a 401(k) or similar retirement account.
Set the Right Example
Last but not least, one of the most important things to do as a financial mentor is to show your teen how it's done. Whether you're aware of it or not, your teen is picking up on your money habits (both the good and the bad). This is a good time to take a look at your own money habits, how you talk about money, and the feelings you have towards finances in general. When you're aware of your relationship with money, you can move forward proactively and make necessary changes that will have a positive impact on you — and your teen — in the future.
If you need some help and support along the way, please get in touch. At Teachers, we believe the learning never stops, and we're always just a message, visit, or phone call away.
*APY: Annual Percentage Yield. Rates are subject to change at any time. Please click here for more information on our most current rates.