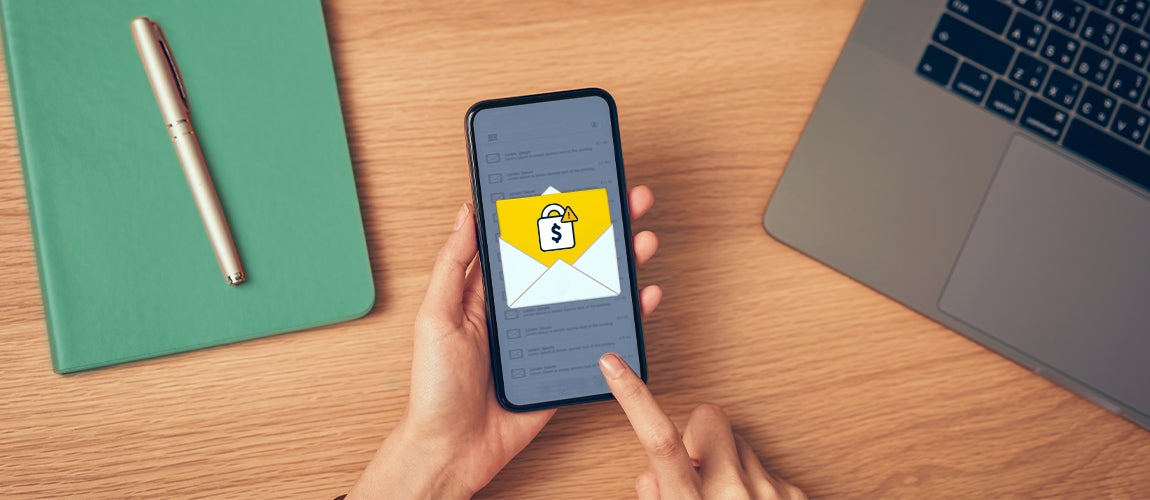 Although you may believe that you're safe from being scammed, the reality is—it can happen to anyone. From tricking you into sending money, to phishing for your personal information, cybercrime scam artists defraud millions of people each year. In fact, the FBI reported that online economic fraud resulted in $6.9 billion in losses in 2021, up from $4.2 billion in 2020.¹ 
Because we're all vulnerable, it's essential to be prepared and educated. Stay in-the-know with these smart tips for spotting fraud, what to do if you get scammed, and ultimately, how to stay safe online.
Tips to Avoid Scams
In an ideal world, we'd all avoid scams in the first place, but this is (of course) easier said than done. Since scammers are continuously getting better at what they do, you'll need to keep your eyes open and stay vigilant each time you use your device or spend time online.
Unsolicited Emails—Proceed With Caution
Be wary of unsolicited emails, even if they are from sites and organizations that you recognize. The FBI reported losses of over $2.4 billion in 2021 due to email account compromise.² Always check for typos or grammatical errors, which typically are not found in emails from legitimate retailers. Also, look closely at the spelling of the email or web address to ensure that it is the real address of the organization. Oftentimes, scammers will create an address that closely resembles that of the retailer. It could be as simple as an extra letter used in an otherwise legitimate email address that you know exists. This could save you and your wallet a lot of trouble.
If you receive a suspicious email and are unsure if it's real, all you need to do is forward it to phishing@teachersfcu.org. As your financial partner, we're always here to help and will be able to let you know if the email is a scam, or if it's real.
Be Smart When Shopping
When you shop online, make sure that you're using smart methods to avoid fraud. By using a credit card or payment service instead of a debit card, you're protecting yourself because these aren't linked with your financial accounts. Even if credit card fraud does occur, the scammer won't have easy access to your bank account information.
Additionally, you'll also want to shop from trustworthy sites. A simple way to know if a site is secure is by looking at the beginning of the website address. If the address starts with HTTPS it means that the site is encrypted and your information is more secure than a website address that starts with HTTP.
The safest and most secure place to shop online is from your home, as it offers more security than a public wifi network. If you decide to browse on your device when you're out and about, you should consider using a VPN (virtual private network) to help ensure that you have an encrypted connection.
Safeguard Your Information
Scammers can attempt to reach you via call, email, or text, posing as a legitimate source, such as the IRS or a financial institution. Never disclose your personal information, including account numbers, passwords, debit or credit card numbers, expiration dates, (PIN) personal identification numbers, or social security number, to anyone. The IRS and Teachers will NEVER contact you to request this information. 
Check Your Account Regularly
One of the best ways to avoid being scammed is to check your bank account regularly. Whether you review your monthly eStatements, or use our Mobile Banking App, it's important to confirm the transactions on your account are valid. In the event you are a victim of fraud, you're more likely to catch it quickly by checking your account status.
What to Do If You've Been Scammed
If you discover that your information has been compromised, you must take immediate steps to minimize the damage. As your financial partner, we're here to help safeguard your information and prevent future fraud.
Contact Us
First, you'll want to contact us if the fraud involved information on your Teachers credit card or any account numbers. You can follow this link to report fraud directly to us. We can help you do what's needed, including getting a new card or freezing your account activity.
If you use online or mobile banking, you can check your accounts and alert us of the transactions that you don't recognize and may be fraudulent. If you don't use this feature, you can simply speak with a representative and ask them to check your recent account activity.
Report It to Authorities
Next, you'll want to report the fraud to the authorities. This could include credit bureaus (Equifax, Experian, and TransUnion), the Federal Trade Commission (FTC), the police, your local FBI office, or your state attorney general.
Make sure that you take notes and save the evidence of what happened. You may still need these details months or even years down the road. Important documents could include account statements, receipts, canceled checks, emails, and texts.
Monitor Your Accounts
After you take these steps, it's crucial to stay on top of your financial and personal information to see if any additional fraud occurs. Watch for any unusual transactions on your accounts or health insurance claims (especially if the scammer got your personal information and Social Security number).
Another thing that you should keep an eye on is your credit report to see if any changes occur that you didn't initiate. This includes checking your credit score regularly to see if it drops unexpectedly. If that happens, there's a good chance that there may be fraudulent activity.
Conclusion
Anyone can fall victim to fraud if they aren't careful. However, if you stay aware and alert, you're in an excellent position to spot a scam and report it before your information is compromised.
At the end of the day, even if you are scammed, there are steps you can take to protect your information again, and we're always here to help point you in the right direction. Find more fraud resources in our Help Center.
¹ FBI Internet Crime Center. (2021). Retrieved 25 March 2022, from https://www.ic3.gov/Media/PDF/AnnualReport/2020_IC3Report.pdf.
² FBI Internet Crime Center. (2021). Internet Crime Report 2020. Retrieved 25 March 2022, from https://www.ic3.gov/Media/PDF/AnnualReport/2020_IC3Report.pdf