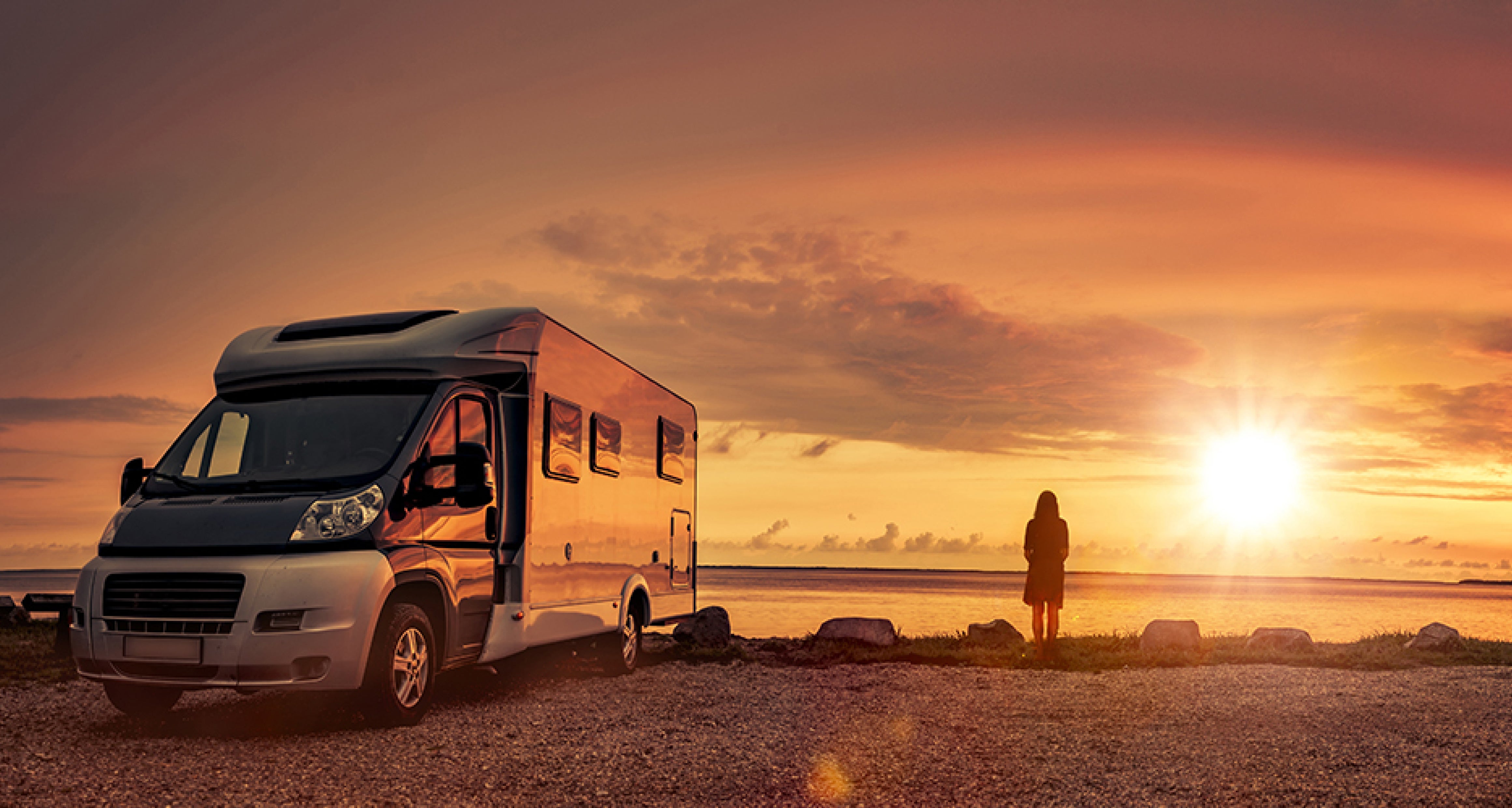 Summer is the time to get away! This year, it's estimated that Americans will spend 50% more on summer vacations than they did in 2019, with an anticipated average of $2,122 spent per vacationing household.1
Whether you're driving on the highway to take the family to Disney World, or enjoying fishing and other water activities while sitting on the open sea, there are specific expenses you'll need to keep in mind. It's smart to plan ahead so you can make it affordable for yourself—and Teachers can show you how!
What Are the Options?
Although there are endless ways to enjoy your summer, there's nothing quite like spending quality time with friends and loved ones. The first question you'll want to ask yourself is, how do you get there? 
Flying can be expensive and average between $1,200 to $2000 for a family of four.2  Multiply that by 1-2 trips per year and the cost can really add up! Choosing to invest in a recreational vehicle (RV) or a boat may be a better option for your family as you can enjoy it on many vacations for years to come!
The Perks of Investing In a Boat
Owning a boat is a goal for a lot of people. The idea of getting out on the water, operating your boat while taking in the views and sunlight can feel like a dream—and it's not impossible! As of 2018, over one in ten Americans own a boat.3
There's flexibility with what you can do if you love boating. Many families who own boats enjoy the opportunity to work together to operate the vessel, using it as a chance to teach their children responsibility and teamwork. Furthermore, you can take it out on the ocean for sea fishing or enjoy river or lake access to go swimming, tubing and water skiing! 
Boats are typically seen as highly valuable, so as long as you take good care of them, you'll likely be able to get a good return on your investment if you ever decide to sell. 
Questions to Ask Before Buying a Boat
As with all large financial purchases, it's important to ask yourself some questions to determine whether or not buying a boat is the right decision for you and your family. 
Are you going to use it often enough to make it worthwhile?
Many people who have boats purchase them under the guise of using the vessel often, but they may use it only once or twice a year. If this is the case, it may be a purchase you consider at a later time.
Are you prepared for the work and financial needs of owning a boat?
It's good to understand that the only cost isn't just purchasing the boat. There's a lot of work that goes into maintaining it.
Where will you keep the boat?
Although you could rent space at a marina, owners may have to figure out how they plan on transferring the boat from one place to another. For example, many people use a trailer to get their boats to and from lakes and rivers. Do you have room on your property for a vehicle like this?
When you approach a seller, there are a few questions you might ask them as well. If the boat is used, it's important to ask the year of the motor, not just the age of the boat itself. You might also ask how many hours the boat has been used for and if it's been prepped to be protected against water damage from a boat lift. Be thorough, and ensure you get the answers you need to make a smart and informed decision.
How to Finance a Boat
Whether you're looking for a pontoon boat or a houseboat, you'll likely be looking at a price tag ranging from $25,000 to over $50,000.4 While this is a large expense, it doesn't mean that it's impossible to afford! No matter if you're looking to pay for the full price yourself or seek out a loan, it's important to think about how you're going to finance your boat. 
At Teachers, we offer low rates and repayment terms ranging from 12 to 240 months on both used and new boats. With flexible options, all you need to do is pick out your boat, and we'll handle the rest!
Before you apply for a new or used boat loan, it's beneficial to pay down any current debts you might have in order to improve your credit score. A higher credit score with a steady payment history will increase your chances of receiving a lower interest rate on your loan.
While many may choose to take out a loan to buy their boat, others might choose to save for a few years in the same way they would for a down payment on a car. Although this is possible for some people, it may not be realistic for everyone. This is why many choose to take out a loan, as financing for the long term can help ensure you can keep a healthy savings and still have fun on the water!
Financial Responsibilities of Owning a Boat
It's important to remember that the cost of owning a boat doesn't stop at the time you purchase the vessel. There is upkeep and maintenance that comes with being a boat owner. In fact, the average boat owner can spend upwards of $5,000 a year in maintenance and care.5 So, before buying a boat, it's essential to understand what costs you can expect to pay beyond just the purchase of the boat itself. 
Some other financial responsibilities include:
Insurance
Registration
Mooring
Trailer
Winter storage
Gasoline
Winterization of the vessel
This type of summer adventure vehicle can be expensive to upkeep, so it's essential to consider your options before you make this leap.
The Perks of Buying an RV
An RV is another great option for your summer adventure! They'll sit in the place of having to get a hotel every night and give you the chance to avoid confining to check-out times when you want to make the most out of your last day at a specific location.
For families, one of the main perks of an RV, aside from its ability to lodge and transport your family, is that it's comfortable and can save money on food and beverages. With an RV, you have a home on wheels and can prepare meals and won't have to rely on dining out all the time.
Questions to Ask Before Buying an RV
There are many questions you might want to ask yourself before buying an RV, and they're similar to the questions you'd want to ask yourself when buying a boat. 
Where you're going to keep your RV when you're not driving it?
Finding a spot while you're traveling is relatively easy—you'll usually find overnight rental lots or even parking in some public parking lots. But during the rest of the year, where will this vehicle stay? 
Do you have any experience driving a vehicle this large?
RVs can ensure that you don't have to spend hundreds of dollars on nightly hotel stays, and you could save thousands by not having your family fly to vacation spots, but it means you have to drive everywhere. Consider whether or not you would be comfortable driving an RV for many, if not all, of the trips your family wants to take.
Purchasing an RV is like buying a house and a car in one go. Whether you're buying a new or used RV, ensure that you look up the specific make and model so you can guarantee you're spending the appropriate amount and investing in a quality vehicle. It's also a good idea to ask the seller detailed questions such as how it's been used if you aren't buying new and what perks or fallbacks it has.
How to Finance an RV
RVs are incredibly popular, and their prices reflect that. According to Cruise America, the average cost can range between $35,000 and $300,000 depending on the model, the age, and what perks you deem necessary for vacations.6
This is an amount of money that most people don't just have sitting on hand, so although saving up can help you get closer to buying an RV, financing may be another excellent option to consider. RV financing gives you the chance to budget how much you pay and make it more affordable than one up-front cost.
With loan terms ranging from 12 to 144 months for new RVs and 12 to 84 months for used RVs, an RV loan from Teachers is the smart choice! Once you find your home away from home, our team can help you secure low-rate financing with manageable monthly payments for your RV.
Financial Responsibilities of Owning an RV
Owning an RV is an investment—both for now and for all future summers. By purchasing these vehicles, you have the opportunity to save money in the long term while getting to bond with your family. Similar to owning a boat or car, the expenses don't stop once you purchase an RV. The average RV can cost thousands a year to maintain and operate. Some of these expenses include:
Fuel
Insurance
Licensing
Parking
General vehicle maintenance
Repairs while traveling
Batteries and charging
Although each of these may feel like small expenses, they can add up over time. This can be especially true for fuel, which an RV needs a lot of while traveling.
The Best Part of Any Summer Vacation
Whether your family loves traveling around the country or you want to enjoy the closest lake or river to home, a boat or RV are two incredible vehicles on which to spend time with family. With careful planning and good financing, our team is here to help you take one step closer to owning their dream boat or RV. 

1 "Stats: Summer Vacation Spend To Be 50% More Than 2019." Travel Agent Central.https://www.travelagentcentral.com/your-business/stats-summer-vacation-spend-to-be-50-more-than-2019. (Accessed August 17, 2021).
2 "How Much Does A Family Vacation Cost?." Vacation Kids .https://www.vacationkids.com/vacations-with-kids/vacations-with-kids/bid/302770/how-much-does-a-family-vacation-cost. (Accessed August 17, 2021).

3 "Share of Americans owning a boat in 2018, by age." Statista. https://www.statista.com/statistics/369961/people-living-in-households-that-own-a-boat-usa/. (Accessed June 22, 2021).
4 Storgaard, Morten. "Average Boat Prices: 15 Helpful Examples (With Pictures)." Go Downsize. https://www.godownsize.com/average-boat-prices/. (Accessed June 22, 2021)
5 Rubin, Courtney. "The Boat Business is Booming." The New York Times. https://www.nytimes.com/2020/07/02/style/boat-sales-summer.html. (Accessed June 22, 2021).
6 "How Much Does an RV Cost: New vs. Used." Cruise America. https://www.cruiseamerica.com/rv-adventures/rv-lifestyle/how-much-does-an-rv-cost. (Accessed June 22, 2021).