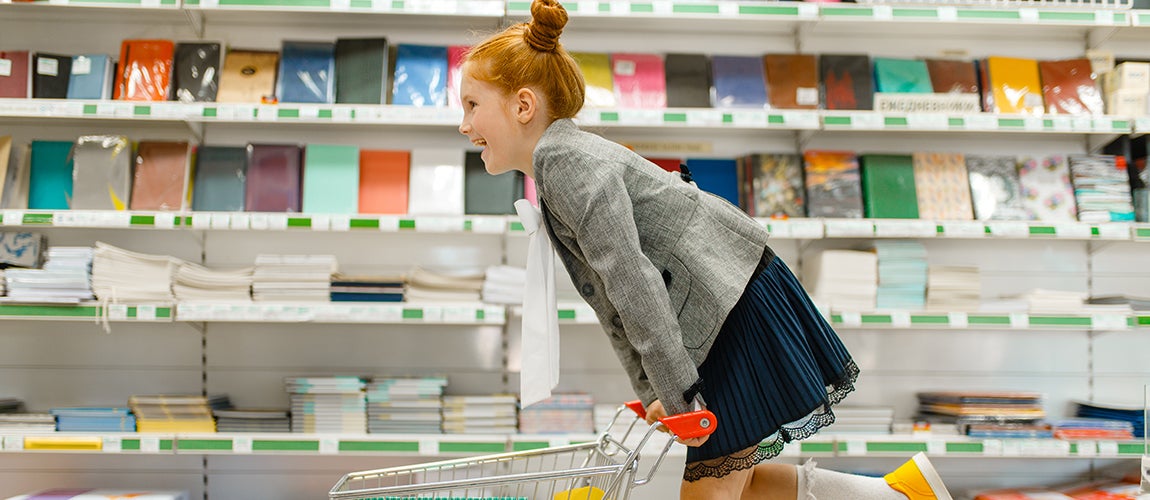 The beginning of the school year brings with it the excitement of new friends and experiences on the horizon. Because it's a new chapter for your child, preparing is  essential—and that all starts with back to school shopping. Although finding everything on that list may seem impossible at first, with a little budgeting and planning, shopping can be just as exciting as that first day back in class.
Teachers has some tips to ensure you get the most out of your school shopping experience!
How Early Should You Shop?
The general rule is to shop as early as possible in gradual amounts. This will allow you to budget the cost of school supplies into a few different trips, alleviating the need to find everything on your list and pay for it in one lump sum at the last minute. However, some stores offer major discounts closer to the beginning of the school year, so it's important to keep this in mind when planning your shopping trips. If you know there is a sale coming up, try setting aside a small percentage of your paycheck each week leading up to the sale. Whether you choose to go this route, or if you prefer to make multiple trips to buy supplies over the course of the summer, having a plan will be sure to make your back-to-school shopping experience more manageable!
Cost of School Supplies
Everyone's back to school budget is different, but according to a 2020 survey, on average, families paid approximately $789.49 for their children in grades K-12 1. Relatedly, parents of college students can expect to pay up to $1,059.20 for the 2021 school year2. Though these figures may be higher than expected, the materials each child needs will differ greatly depending on their grade and age, so let's take a look at a list of general supplies you might need to consider buying for your child.
Shopping for Elementary Students
Average Budget: Up to $800 per family
Most elementary students are given a list of supplies they will need before they start class. This list will either be tailored to their teachers requests or their school in general. The most common things will include a bottle of hand sanitizer, tissues, notebooks, folders, pencils, and a set of markers or crayons. If you didn't receive a list from your child's school, try calling or checking the school website to get a head start!
Shopping for Middle School Students
Average Budget: Up to $800 per family
Parents of middle schoolers may find they are spending more than they did when their child was in elementary school. This is because middle school is when children start to develop their own taste for items, and they may be growing more quickly. Your budget for new clothes can rise, and you may have to buy more expensive items for school, such as a nicer graphing calculator or a bigger backpack for them to carry their assignments.
Shopping for High School Students
Average Budget: Up to $800 per family
A high schooler will have different needs based on their particular interests and what courses they're seeking out. If your child doesn't have a computer, and you plan to buy them one, this can account for a major part of the school shopping budget. Another large expense may be related to their extracurricular activities or sports teams. Between attire, lessons, gear and sometimes travel, it can really add up!
Shopping for College Students
Average Budget: $1,000+ per family
College students can have the most costly expenses to consider. Outside the cost of their degrees, you'll have to consider the price of college textbooks (which can amount to hundreds of dollars each year), housing, dorm necessities (bedding, lamps, etc.), and transit. Beyond this, a laptop will likely replace notebooks, paper, and pencils. Luckily, their computers will typically come with free applications they can use, but you may have to pay for programs like the Adobe suites or specific online tools for their classes.
Creating a Budget
Back to school shopping can be expensive—but you can make it easier on yourself if you set a budget. The least expensive students to buy for are elementary students because they don't need many complicated items, and you are typically provided a clear list of what they will need. It may get more complicated as your child gets older, but the best way to stay organized is to speak with them or their teacher about what they need, create your list, and go from there. Once you do this, you can then find extra ways to save. Some tips to help you get started include:
Making Use of Sales
When shopping for your child, a good rule of thumb is to shop for the next year after the school year has started. Most necessities will all go on sale when the school year ends. While you might not know the specifics of what they will need, it's a good idea to go and buy basic necessities (backpacks, pens, pencils, notebooks, folders) on sale, and then store them until the next school year. 
Reusing Items From the Previous Year
For middle school and elementary students, another important thing to keep in mind is that they won't use all of the items they have in a year, and many items are reusable. This means you won't have to buy them new backpacks, binders, or writing tools if they have some already in good condition. Keep track of what you buy, and help your children keep their supplies in good shape so they'll last longer.
Utilizing Student Discounts
For high schoolers and college students, consider seeking out student discounts. Most companies have a student discount you can use, and students in college usually get a discount at their campus bookstore, especially on more expensive items such as a laptop or other electronics.
Buying Digital Versions
For textbooks, consider seeking out ebooks or online versions. Although not every book is offered in this format, and you can't resell it after you purchase it, buying digital textbooks can be cheaper and will keep your student from having to lug around as many heavy books.
Final Thoughts
Above planning for classes and all of the required supplies, the most important thing in a school year for kids is excitement! Regardless of the age, by involving your child in the shopping process, you can be sure they'll have supplies they'll be happy to use and will be ready to make this the best school year ever!
1 Thomas, Lauren. "Back-to-school spending could hit a record as parents buy costly technology for kids at home." CNBC. https://www.cnbc.com/2020/07/15/back-to-school-spending-could-hit-a-record-during-the-pandemic-nrf.html.(Accessed July 1, 2021)
2 Thomas, Lauren. "Back-to-school spending could hit a record as parents buy costly technology for kids at home." CNBC. https://www.cnbc.com/2020/07/15/back-to-school-spending-could-hit-a-record-during-the-pandemic-nrf.html.(Accessed July 1, 2021)