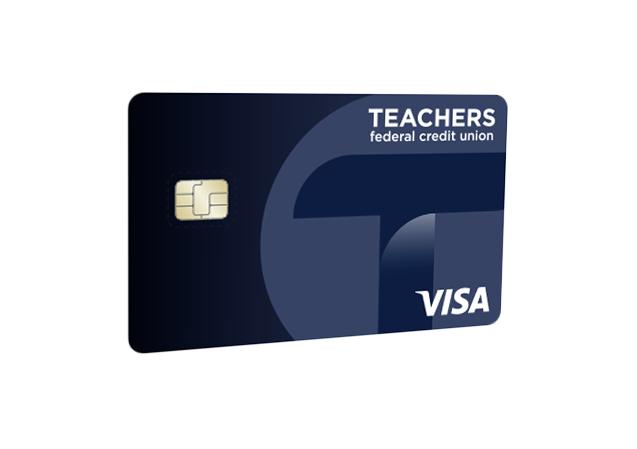 Enjoy an 0% Introductory APR** on Balance Transfers.
Reliable, Low Rates
Our Teachers Visa Low Rate Credit Card is ideal if you want a reliable, low rate to help you save more on interest each month. 
Explore the Perks to Having a Visa Card from Teachers
To report a lost or stolen credit card call: 1-855-462-5880
ALL RATES AND TERMS ARE SUBJECT TO CHANGE WITHOUT NOTICE.
*APR = Annual Percentage Rate
**When the promotional period ends, any new or outstanding balance transfers will revert to the standard APR, which ranges from 13.50% APR to 18.00% APR. Offer is subject to change at any time without notice. Introductory rate of 0.00% APR for 12 billing cycles on qualified balance transfers. Balance transfers must be made during the promotional period to qualify for the introductory rate. The standard fee for balance transfer is either $5.00 or 3.00% of the amount of each transaction, whichever is greater. Balance transfers can be submitted via the Teachers' website (credit card section), Teachers' Mobile Banking App (credit card section) or with a Member Service Representative by calling 855-462-5880. Minimum transfer amount is $1,000.00. Only non-Teachers Federal Credit Union balances can be transferred. This promotion does not include Student Visa, Share Secured Visa or Visa Business card. Balance transfers do not earn points or cash rewards. All other Credit Card terms and conditions remain the same. Offer subject to credit approval and APR may vary.
***Membership required, $1.00 minimum regular savings account required at or prior to account opening.
To find out your available cash limit you can call Customer Service at 1-855-462-5880 or from outside of the U.S. call 1-301-945-3582.