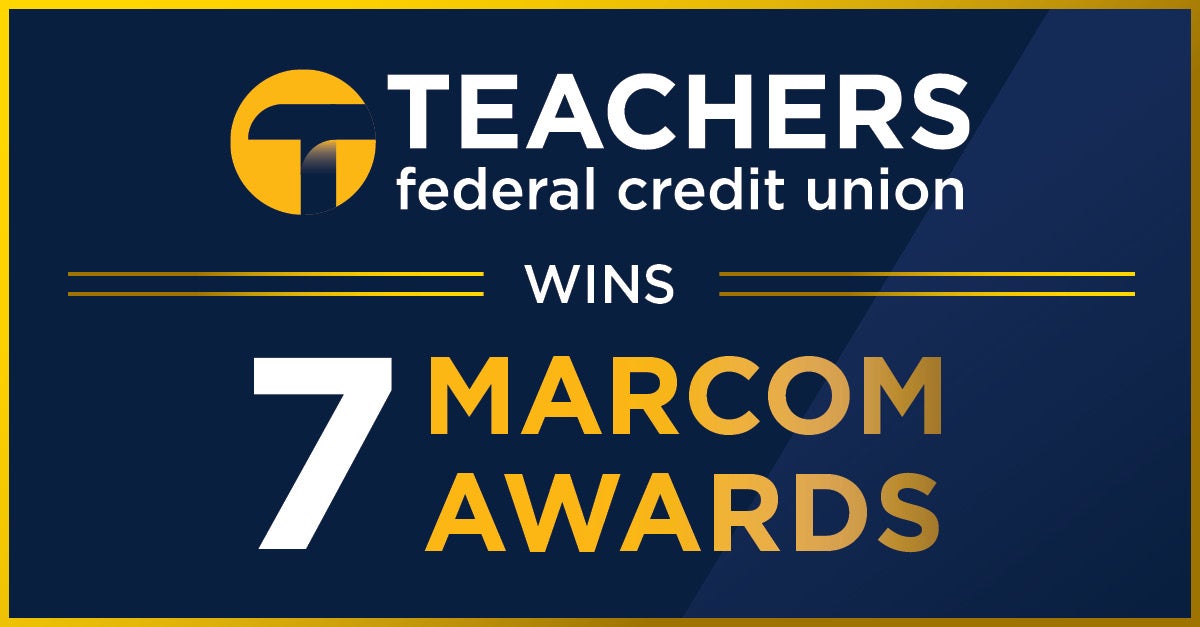 Teachers Federal Credit Union, one of the largest credit unions in the United States with $8.8 billion in assets and more than 375,000 members, announces outstanding achievement at the 2021 international MarCom Awards competition. The MarCom Awards, one of the largest, most-respected creative competitions in the world, honored Teachers with seven wins -- two platinum, three gold, and two honorable mention designations.
Platinum Award 
MarCom's Platinum Award, presented to those entries evaluated as the most outstanding in the competition, was awarded for the credit union's social media-driven Teachers Appreciation Week contest. Recognizing that the COVID-19 pandemic required educators to support students like never before, Teachers honored its founding roots by awarding three $1,500 classroom grants to celebrate teachers making an outstanding academic contribution in the community. More than 250 teachers were nominated, and through Teachers social media channels, members and followers voted for three winning educators to receive the classroom grants and other Teachers swag. 
Another platinum recognition came from the organization's achievement in overall Instagram Engagement. Multiple initiatives supported this win, including the Teacher Appreciation Week contest, the sharing of Teachers Knowledge Center financial education content, and the more frequent use of Instagram Stories.
Gold Award 
Gold recognition was awarded for Teachers 2020 Annual Report design, made available both in print and online. The report, which included executive, member, and employee testimonials, as well as financial and income statements, combined data with visual storytelling and presented a fresh outlook on the organization's achievements for the year. 
Teachers also received a gold award for its new employee Intranet, SmartHub, which launched in 2020 and yielded over 50,000 employee engagements in its first year. 
Teachers community initiatives from the first half of 2021, ranging from scholarships and classroom grants, to donations and volunteer hours were also awarded a gold award.
Honorable Mention
Teachers received an honorable mention for its internal and external crisis communication response to the COVID-19 pandemic. In March of 2020, the organization successfully pivoted from a traditional brand launch and bridged to a communications cascade including a member-facing video series that messaged the credit union being open and ready to serve its membership during this time of need. 
Further, Teachers was recognized for its internal communication and engagement efforts, including its Employee Appreciation Week and Core Value Olympics campaigns, which utilized  key moments in time to recognize employees and reiterate the organization's mission. 
Administered and judged by the Association of Marketing and Communications Professionals (AMCP) since 2004, the MarCom Awards honor companies and industry professionals whose work serves as a benchmark for the industry and whose talents exceed a high standard of excellence. Over 6,000 entries were submitted this year from around the world. The full list of 2021 winners can be viewed here.
###
ABOUT TEACHERS FEDERAL CREDIT UNION
Teachers Federal Credit Union (Teachers) is one of the country's largest credit unions with $8.8 billion in assets and more than 375,000 members across all 50 states. Founded on Long Island in 1952, Teachers is a full-service, not-for-profit financial institution that provides members with 32 full-service branches throughout Long Island, Queens and Manhattan, as well as access to services at more than 5,000 shared service centers located across the country. Over the years and through various partnerships, Teachers has been proud of its role as a key supporter of the communities it serves. Teachers offers a range of member-focused products with competitive rates and low fees that started as a smart solution for teachers - now smart for all. For more information visit www.teachersfcu.org.
ABOUT MARCOM
MarCom Awards honors excellence in marketing and communication while recognizing the creativity, hard work and generosity of industry professionals. Since its inception in 2004, MarCom has evolved into one of the largest, most-respected creative competitions in the world. Each year about 6,000 print and digital entries are submitted from dozens of countries. MarCom is administered by the Association of Marketing and Communication Professionals (AMCP). The international organization, founded in 1995, consists of several thousand marketing, communication, advertising, public relations, digital and web professionals. AMCP administers recognition programs, provides judges, and rewards outstanding achievement and service to the community. Entrants are not charged entry fees for work they perform pro bono for nonprofits. In the past few years alone, AMCP has contributed more than $250,000 to charitable causes.