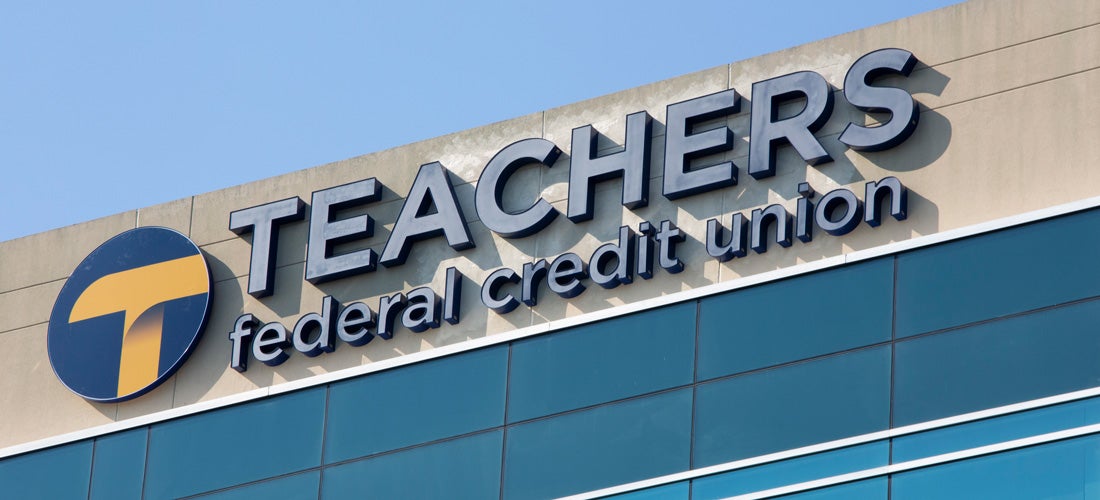 Teachers Federal Credit Union, one of the largest credit unions in the United States with $7.8 billion in assets and more than 340,000 members announces the results of board elections held on April 27 at their Annual Meeting. George L. Dornhoefer, Raymond P. Grossman and Dr. Shalei V.K. Simms were re-elected to the Board of Directors for three-year terms.
"Since joining Teachers last year, I've experienced firsthand the financial expertise, executive counsel and community leadership that each of these individuals brings to our organization by serving on our board," said Brad Calhoun, President and CEO. "Alongside our executive team, I look forward to continuing our work together to build the next chapter of Teachers for our employees, members and community."
For the first time in its history, the Teachers Federal Credit Union Annual Meeting was available to members via livestream in order to provide full meeting access while adhering to current social gathering guidelines. Delivery of the credit union's 2019 annual report revealed strong fiscal growth and a widening membership base for the organization.
The following officer positions were appointed:
Chairman - Timothy M. Southerton
Timothy M. Southerton has been a Teachers member for more than 35 years, serving as Chairman of the Board since 2017. Prior to becoming Chairman, Timothy served on the Teachers Supervisory Committee and the Pension Plans Board. Currently, Timothy also serves as coordinator of the Long Island Teachers Benevolent Fund. A lifelong educator, Timothy taught Special Education in the Sayville school system for 38 years and holds an MS in Special Education from LIU Post (formerly C.W. Post), an MS in Technological Systems Management from Stony Brook University and a BS in Speech Education from SUNY Cortland.
Vice Chairman - April S. Neitlich
April S. Neitlich joined the Board of Directors in 2014 and recently served as the Board Secretary. She began volunteering for Teachers in 2008 as a member of the Supervisory Committee and served as its Secretary for two years. April is currently the Assistant Director of Management Analysis at Stony Brook University. April graduated cum laude from the SUNY Oswego with a BS in Accounting. She is a current member of the Institute of Internal Auditors (IIA) and the Association of College and University Auditors (ACUA).
Treasurer - Juan C. Nunez
Juan C. Nunez has been a member of Teachers for more than 25 years and began volunteering for the credit union in 2003 as a Supervisory Committee member. Juan has served on the Board of Directors since 2008 and previously held the positions of Treasurer, Vice Chairman of the Board and Chairman of the Pension Plans Board. Currently, Juan is VP of Financial Planning and Analysis at Apogee Events. Juan holds an MBA from New York Institute of Technology School of Management and a BS in Accounting and Economics from Elmhurst College.
Secretary - Shalei V. K. Simms
Dr. Shalei V. K. Simms is currently serving her second term on the Board of Directors and her first term as Secretary. Shalei is an Assistant Professor of Management at SUNY Old Westbury, where she also serves as the Director of Graduate Studies. Shalei holds a PhD from Rutgers University and a BA from Wesleyan University. She is a member of the Academy of Management, Management Faculty of Color Association and Delta Sigma Theta, Sorority, Inc.
The Board of Directors announced the re-election of the following Board Members:
George L. Dornhoefer has served on the Teachers Executive Board since 1987 and has held a variety of officer positions, including Secretary, Treasurer, Chairman and most recently, Vice Chairman.
Raymond P. Grossman has contributed to the mission of Teachers for more than 30 years, serving in a variety of positions including Chairperson of the Supervisory and Personnel Committees, Treasurer for the Executive Board and as a member of the Pension Plans Board.