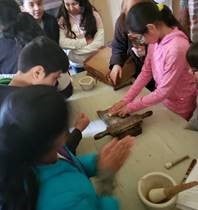 Stony Brook, NY – Through the generosity of TEACHERS, hands-on field trips to WMHO's Revolutionary War era historic sites were recently made possible for 120 students from Brentwood's Laurel Park Elementary school. They enjoyed three special programs, taking part in a Culper Spy Ring reenactment, role-playing 18th Century doctors and much more.
Medicine: Past, Present and Future: The Thompson House, c. 1709, (Setauket) home to physician and Patriot Samuel Thompson
Become a Spy: Brewster House, c. 1665, (Setauket) home to Joseph Brewster, cousin of Caleb Brewster, member of the Culper Spy Ring.
Dusty Program: Stony Brook Grist Mill, c. 1751, (Stony Brook) Students join the "miller" discovering the principles of how water powers the mill's mechanisms grinding grain just as it was during the Revolutionary War.
Photo Description: Laurel Park Elementary 5th graders learning how to create early American medicine using mortars and pestles at WMHO's Thompson House.
Photo Credit: WMHO