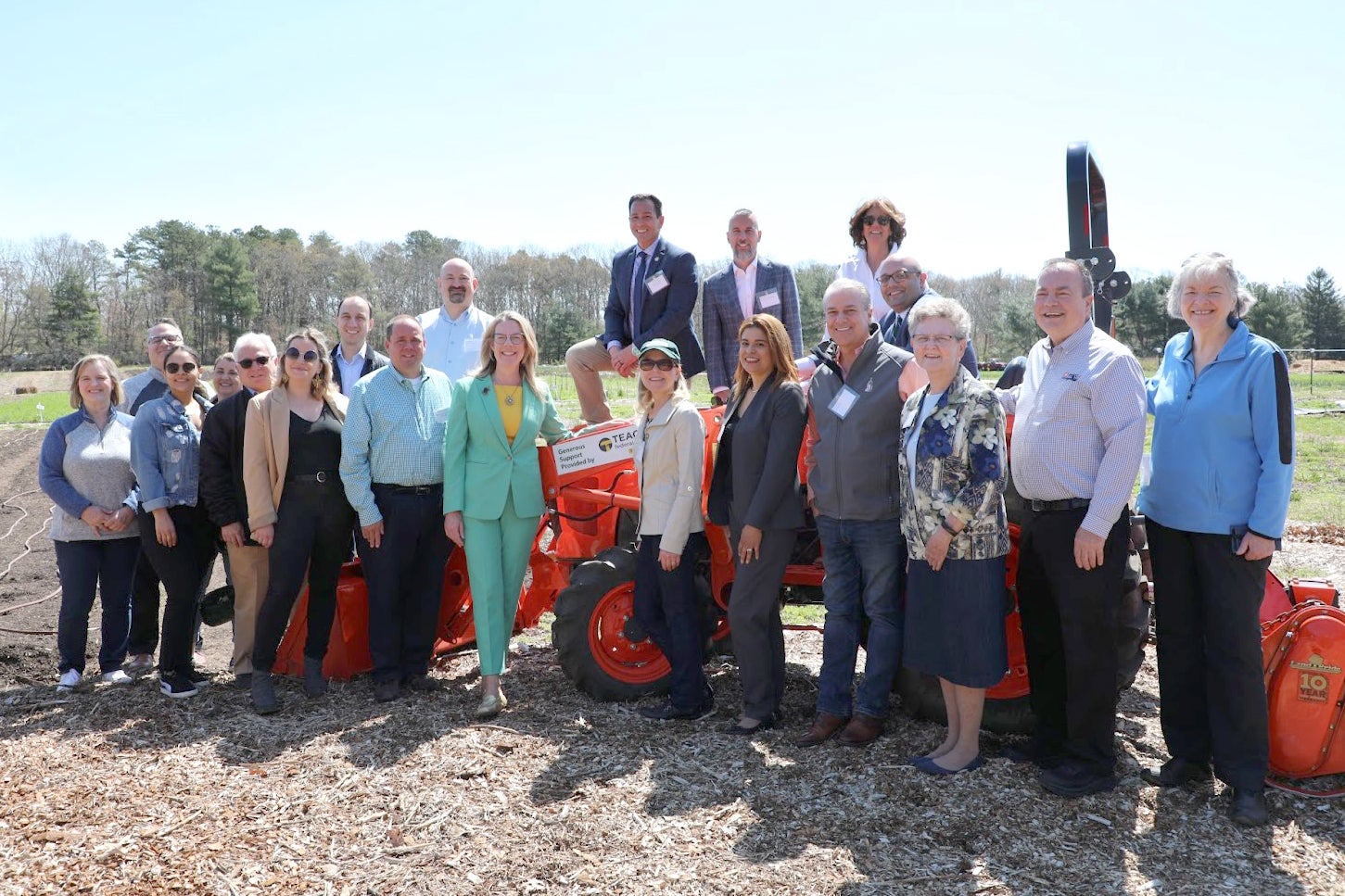 Teachers Federal Credit Union announced its continued sponsorship of Island Harvest Food Bank's Healthy Harvest Farm on Earth Day, April 22, 2022, at a joint press conference. Teachers is donating $20,000 in support of Island Harvest's efforts, and employee volunteers will visit throughout the season to help with planting, weeding, and raking at the Island Harvest Healthy Harvest Farm, in addition to assisting with food distribution in the community, and supporting Island Harvest's warehouse events. This sponsorship will help increase accessibility to healthy produce as an effort to battle food insecurity in the Long Island region - a place where 300,000 individuals face poverty and hunger on an annual basis.
"Teachers believes in being Smart For All - meaning that together, we can find solutions to support members within our community who need it most," said Irene Sierra, SVP, Human Resources & Organizational Development at Teachers Federal Credit Union. "Whether it be through volunteer efforts, fundraising, or raising awareness, our team is committed to sharing our time, energy and resources to give back."
"The long-term partnership we've enjoyed with Teachers Federal Credit Union has and continues to positively impact the lives of people who are struggling with hunger and food insecurity," said Randi Shubin Dresner, president & CEO, Island Harvest Food Bank. "We are exceptionally grateful for Teachers' caring, generosity and support at every level from the CEO on down as a valued partner in our fight against hunger and food waste on Long Island."
 ABOUT TEACHERS FEDERAL CREDIT UNION:
Teachers Federal Credit Union (Teachers) is one of the country's largest credit unions with $8.8 billion in assets and more than 400,000 members across all 50 states. Founded on Long Island in 1952, Teachers is a full-service, not-for-profit financial institution that provides members with 32 full-service branches throughout Long Island, Queens, and Manhattan, as well as access to services at more than 5,000 shared service centers located across the country. Over the years and through various partnerships, Teachers has been proud of its role as a key supporter of the communities it serves. Teachers offers a range of member-focused products with competitive rates and low fees that started as a smart solution for teachers - now smart for all. For more information visit www.teachersfcu.org. 
ABOUT ISLAND HARVEST FOOD BANK:
Island Harvest Food Bank is a leading hunger-relief organization that provides food and other resources to people in need. Always treating those it helps with dignity and respect, its goal is to end hunger and reduce food waste on Long Island through efficient food collection and distribution; enhanced hunger-awareness and nutrition-education programs; job training; and direct services targeted at children, senior citizens, veterans, and others at risk of food insecurity. As a result of Island Harvest Food Bank's dynamic business model, more than 94 percent of expended resources go directly to programs and services that support more than 300,000 Long Islanders facing hunger. Island Harvest Food Bank is a lead agency in the region's emergency response preparedness for food and product distribution and is a member of Feeding America®, the nation's leading domestic hunger-relief organization. For five consecutive years, Island Harvest Food Bank has earned a four-star rating from Charity Navigator, a leading independent charity watchdog organization. Island Harvest Food Bank is among just 9% of the organizations rated by Charity Navigator to merit the four-star designation.  More information about Island Harvest Food Bank is at www.islandharvest.org.