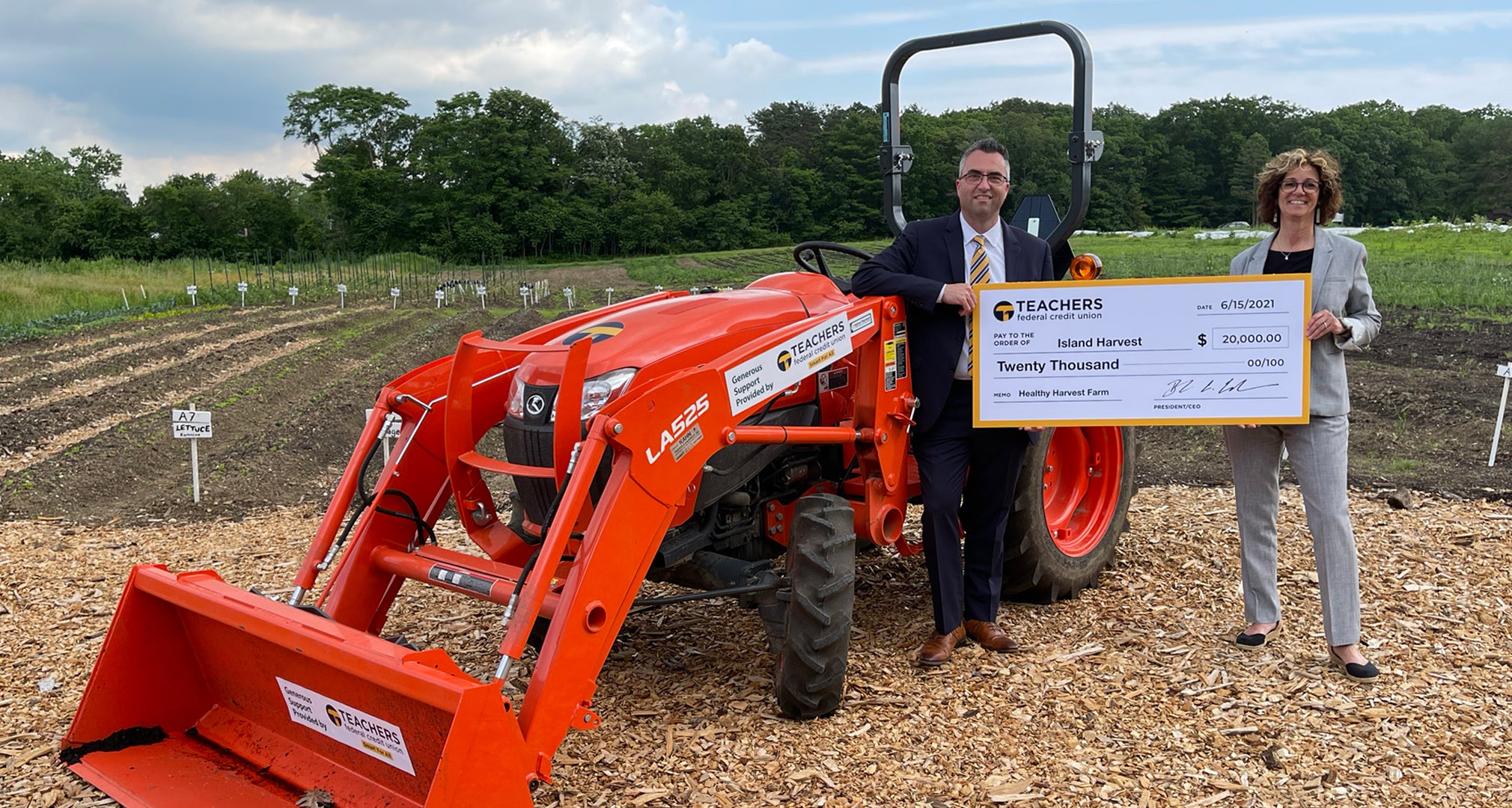 Teachers Federal Credit Union is excited to announce its sponsorship of the Island Harvest Healthy Harvest Farm. The sponsorship, which includes weekly volunteer opportunities for Teachers' employees and a $20,000 donation, aims to help provide increased access to healthy produce and help battle food insecurity among the more than 300,000 individuals facing hunger and poverty in the Long Island region.
Teachers gives life to the credit union philosophy of "people helping people" by offering employees paid time off to volunteer in the community. Through its Employee Volunteer Program and Teachers' sponsorship of the Healthy Harvest Farm, employees will have the opportunity to visit the farm on a weekly basis through the month of October. Volunteers assist with various tasks on the grounds including planting,
raking and weeding.
"To build a strong community, we need to support volunteer activities that enhance and serve the communities in which we live and work," said Teachers Federal Credit Union President and CEO, Brad Calhoun. "We are proud to give back to the Island Harvest Healthy Harvest farm and its mission to provide healthy meals to thousands of
people in need."
After farming activities were suspended last year to address the urgent needs of the community impacted by the COVID-19 pandemic, Island Harvest Food Bank is finally reopening its Healthy Harvest Farm to once again supply over 20,000 pounds of nutritious, locally grown fruits and vegetables to those struggling with hunger.
"Solutions to help people who are food-insecure have typically been short-term in nature and often devoid of fresh, healthy food," says Randi Shubin Dresner, President and CEO, Island Harvest Food Bank. "We at Island Harvest Food Bank are driving a shift toward promoting better eating habits by offering healthier food choices that will eventually lead to more favorable health outcomes for people identified
as food-insecure."
For more information on how Teachers gives back to the local community, please visit www.teachersfcu.org/blog/community. To learn more about Island Harvest Food Bank and the Island Harvest Healthy Harvest Farm, please visit www.islandharvest.org.