Hosting a Holiday Party On a Budget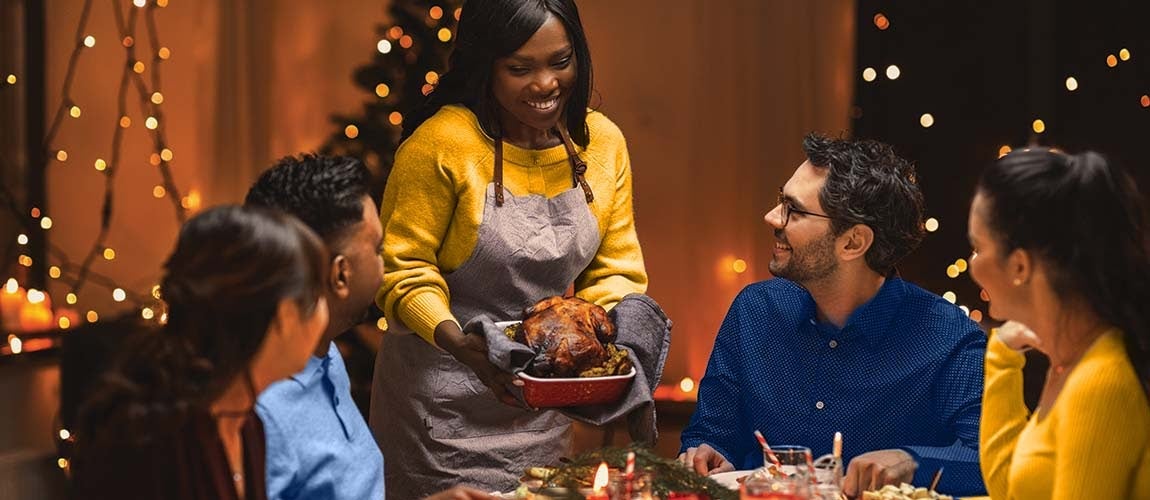 It's the holiday season—and your turn to host! We're sharing a few of our tried and true cost-saving tips for you to use for your next holiday gathering. With these tips, you'll be the host with the most...for a lot less. 
5 Budget-Saving Tips for the Holiday Host 
It's possible to plan and host a great holiday get-together without putting too big of a dent in your wallet. The holidays are already an expensive time of year, so save where you can by following these tips when it's your turn to host.
 
1. Keep it Simple 
Planning an event can be overwhelming. From deciding what you'll serve, to planning the decorations, costs can really add up. Our tip: keep it simple. By choosing an affordable theme where you can use items you already have, you'll avoid making expensive purchases such as new tableware and decor simply to match an inspiration photo. You can use inexpensive additions, such as seasonal produce, paper cocktail napkins, candles, and flowers to make decor from seasons past feel fresh and fun. 
Beyond that, you don't need to add much else to create a festive environment; your guests will likely remember how they felt and how much fun they had, not how the table was set or how many garlands were strung.   
 
2. Embrace Activities
Some of the best parties are simply spent mingling and reconnecting with friends and family over food and drinks. 
But you can also toss in some fun activities, like a favorite trivia game that you already own, or go classic with a few rounds of charades or some prompted conversations around being thankful. Hosting a gift exchange is always a good time too. You know your guests best, so plan an activity that you know they'll love, and everyone will surely have a good time, too.  
If you decide to host a gift exchange, just be sure to put a reasonable spending limit on it, such as only buying gifts $20 and under, so you don't add to your expense sheet.  
 
3. Make the Meal a Potluck 
One of the more difficult parts of hosting is buying, cooking, and preparing food for the group, be it big or small. However, you can save a lot of time and money by having everyone who is attending contribute a dish. Consider assigning appetizers, sides, and desserts to your guests, so you only have to worry about the main entree. Most people truly enjoy bringing a favorite or new recipe to a party, so don't be shy
about requesting it. 
Alternatively, if you have the menu under control, consider asking your guests to bring a beverage of choice. Sometimes, the drinks can be even more expensive than the food for a holiday soiree, so this could help you cut costs in a big way.
 
4. Keep it Small
If your budget is tight, or you don't want to go overboard, try to keep the gathering small. Everyone loves an intimate celebration where they don't need to stand in a line to use the restroom or have small talk with a stranger. And keeping it small can help you save money on food, drinks, and decor. It also means you won't need to hire catering, cleaning staff, or musicians.
 
5. Say "Yes" to Help
When someone offers to lend a helping hand or asks, "what can I bring?" avoid the urge to say you have it all covered. A little help can go a long way when you're hosting a party on a budget. Having help can save you money and make planning a lot less stressful. It's a win-win. Whether your sister says she can show up early to help set the table, your uncle offers to play bartender, or your best friend will let you borrow her matching serveware, consider taking them up on it. Every bit of help is one less thing you need to do or buy, and at the end of the day, you'll be less stressed because of it.
 
Enjoy the Party
It can be all too easy to get caught up in hosting duties when the party is in full swing, from filling water glasses to picking up left behind hors d'oeuvres plates, but don't let that get in the way of your own experience. Take the time to welcome your guests and then have fun! If you follow these budget-saving tips for your holiday bash, you hopefully won't need to worry about how much you spent or how to time each course. So sit back, relax, and enjoy.